We've known for years that when communities sell their water systems to private companies, water bills tend to go up. But by how much?
Food & Water Watch did a survey of 500 municipal water systems – the largest survey of its kind – and found that public utilities charge an average of $315.56 per year for a typical household. Private water utilities averaged $500.96 – an increase of 59%.
That's an extra $185 each year for the same amount of water.
In some areas, private water companies' track record is even worse:
In Illinois, private water cost $286 more.
In New Jersey, private water cost $230 more.
In New York, private water cost $260 more.
In Pennsylvania, private water cost a whopping $323 more.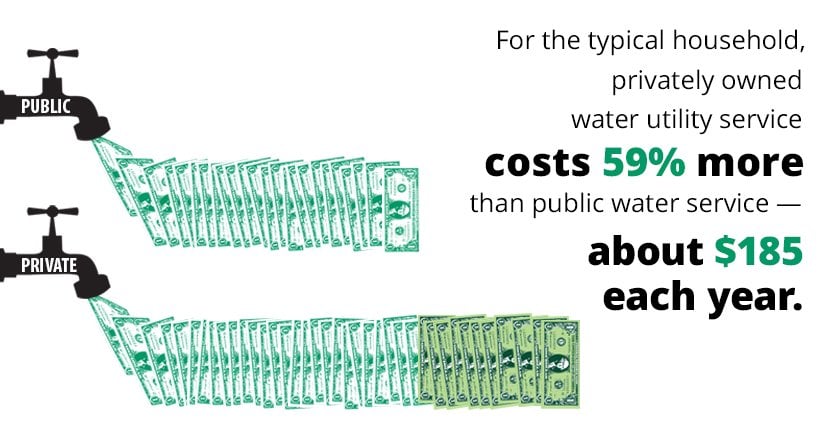 What do residents get for their extra money? Generally nothing good. As we've worked with communities affected by privatized water systems, we see the same trends everywhere: service gets worse, maintenance costs increase, and jobs vanish. Private water companies are motivated by their own profits, not by the public good, and they make decisions about their services accordingly. And unlike publicly operated systems, these companies aren't accountable to residents, leaving people with little recourse to fix the situation.
Keeping our water in public hands usually means water service that's more equitable, more affordable, and more reliable. Get the facts about public water, and take action to help fund critical repairs to our nation's water infrastructure.
Will you join us in supporting the WATER Act?