8 Years After Historic Gas Blowout, Aliso Canyon Still Hasn't Shut Down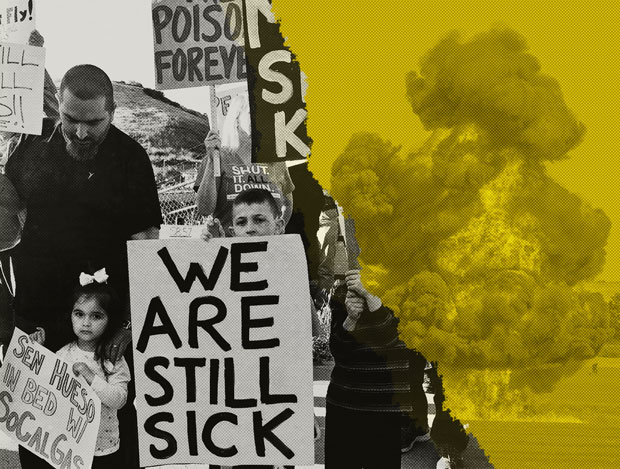 Aliso Canyon still endangers public health and safety. Yet Governor Newsom's Public Utilities Commission is considering expanding its capacity, ignoring demands to shut it down.
Aliso Canyon still endangers public health and safety. Yet Governor Newsom's Public Utilities Commission is considering expanding its capacity, ignoring demands to shut it down.
Almost a decade ago, a blowout at SoCalGas's Aliso Canyon gas storage facility became the biggest methane leak in U.S. history. On top of its massive climate impact, the leak unleashed dangerous air pollutants that plague nearby residents to this day. 
Two California governors have called for Aliso's closing. Residents and advocates have demanded it for years. Yet this July, the California Public Utilities Commission proposed a third expansion to the facility.
In a few days, the CPUC is going to vote on the proposal. We can't let it pass.
The Biggest Methane Release in U.S. History
In late October 2015, the Porter Ranch community in California's San Fernando Valley knew something was wrong with the air. Terrible smells and strange symptoms made residents suspect a big gas leak in one of the homes. But the culprit turned out to be a huge blowout at the nearby Aliso Canyon gas storage facility. 
The blowout displaced thousands of families and forced two schools to relocate. Later, those who had to return suffered everything from asthma attacks and sore throats to bloody noses, nausea, headaches, and more. These health issues have persisted till today, while cancer and asthma rates in the area have jumped.
The Aliso storage facility, a retrofitted oil well, released a cocktail of mystery chemicals mixed with the gas. What chemicals we do know leaked from Aliso include heavy metals like mercury and lead, as well as the carcinogenic benzene.
The release lasted for four long months, spewing 100,000 tons of air and climate pollutants. Most of that was methane, a greenhouse gas 80 times worse for the climate than carbon dioxide.
At its peak, the Aliso release was the biggest known source of methane emissions in the country and California's top contributor to climate change.
California Regulators and Lawmakers Slow-Walk Aliso's Closure
After the release, former Governor Jerry Brown directed state regulators to start planning Aliso's closure, albeit on a frustratingly long timeline. When Governor Gavin Newsom took office in 2019, he directed the Public Utilities Commission to pick up the pace.
But eight years later, we still don't have a timeline for Aliso's closure. A 2022 bill would have set a target for 2027, but the State Senate threw out that measure at the last minute. (State lawmakers have received tens of thousands of dollars from Sempra, SoCalGas's parent company.)
Since reopening after the blowout, Aliso's use and storage limits have continued to grow. The CPUC has already authorized two expansions to Aliso's storage limit (one in 2020 and another in 2021). Its newest proposal would increase the storage limit yet again — to nearly full capacity. 
Governor Newsom appointed CPUC commissioners and could close Aliso with an Executive Order. But despite our demands, he's done nothing to intervene or hasten Aliso's closure.
Tell Governor Newsom to keep his promise and shut Aliso down!
SoCalGas and Sempra Choose Profit Over People
When the CPUC announced its plans for Aliso in July, it was immediately clear that the agency and SoCalGas were peddling lies. 
The past few years have shown that California doesn't need Aliso. After the blowout, the state adapted the gas system and electric grid to operate without it for nearly two years. And it did so without a single blackout or gas supply shortage.
Moreover, growing activity at Aliso and its expansions have led to more residents reporting health symptoms, and more leaks and violations.
The CPUC suggested that expanding Aliso Canyon would help keep energy prices steady during this upcoming winter. It pointed to last winter's spike in prices to support its reasoning. But these spikes had more to do with corporate greed than shortages. 
In fact, at the same time as those price spikes, SoCalGas had storage levels and pipeline capacity at the highest they'd been in years. Research suggests that SoCalGas bought gas on the market instead of drawing on what inventory it already had, leading to higher prices. 
Meanwhile, the profits of SoCalGas's parent company, Sempra, have ballooned. This is unconscionable while many Californians must choose between paying their utility bills and rent, medicine, or groceries.
The CPUC Must Shut Down Aliso for Good
Since the blowout, Food & Water Watch has fought with allies and nearby communities to shut Aliso down. This month, we rallied with residents and joined 50 other organizations to demand that the CPUC stop yet another expansion. 
There's no guarantee that the expansion will do anything for customer rates — but it will guarantee more pollution, more threats to public health and safety, and more profits in the pockets of Sempra and SoCalGas. 
Governor Newsom and his appointees on the California Public Utility Commission must fast-track Aliso's closure, as many elected officials and community members have demanded for years. 
Demand the CPUC to shut down Aliso Canyon ASAP and stop any more expansions!