Help Us Pass Federal Farm Legislation!
What You'll Learn From This Report
1: Introduction

A special project at Food & Water Watch focuses on the people living near natural gas power plants, who tell a different story than the fossil fuel industry does when it comes to harmful effects.

2: The Fight Against Fracked Gas in New York

Mark Sanchez-Potter is a Newburgh, NY resident concerned about the Danskammer Energy Center.

3: A California Community Member Becomes An Advocate

Kitty Merrill's fight against the proposed Puente Plant in Oxnard, CA led her to become an environmental activist.

4: The Ripple Effect of People Power in New Jersey

Bill McClelland has become a seasoned veteran in the battle between concerned residents and persistent power plants in New Jersey.

5: Conclusion

Our future depends on us creating the political will to ban fracking and stop the buildout of more fossil fuel infrastructure.
Part 1:
Introduction
A special project at Food & Water Watch focuses on the people living near natural gas power plants, who tell a different story than the fossil fuel industry does when it comes to harmful effects.
Our dependence on fossil fuels is destroying our climate and eroding the health and safety of everyone who lives in this country. Natural gas, produced primarily from fracking (hydraulic fracturing) — a dangerous form of drilling, is being touted as a "cleaner" fossil fuel by the industry and its supporters.1 But the experiences of those on the frontline show that it is anything but clean or safe.
At a time when we need to be shifting away from fossil fuels, more and more natural gas power plants are being proposed in communities across the United States. These plants prop up the toxic fracking industry and emit significant amounts of methane, carbon dioxide, nitrogen oxides, sulfur dioxides, particulate matter and other pollutants.2 It is a public health and climate nightmare.
You can enter your zip code in this map to see the natural gas power plants — already built or being proposed — near you.
In this special project connecting our research with stories from the frontlines, Food & Water Watch interviewed the people living near these facilities. These stories uncover the plight of pollution plaguing communities, the health issues suffered and the victories from those who have been brave enough to fight against climate-polluting corporations.
The interviews took place in late 2020. In October 2021, New York Governor Kathy Hochul rejected a key permit that effectively blocks the proposed Danskammer Energy project, underscoring the importance of citizen activism.3
Following section divider photo credit: Gilles Uzan
Part 2:
The Fight Against Fracked Gas In New York
Mark Sanchez-Potter is a Newburgh, NY resident concerned about the Danskammer Energy Center.
Nestled in a New York suburb some 60 miles from Manhattan lies the diverse community of Newburgh, which is largely made up of Black and Hispanic people.4 Newburgh is also home to Danskammer Energy Center, a seldom-used natural gas power plant that has been the center of widespread opposition and rising tensions in the community. While New York is one of the only states to ban fracking, a dangerous proposal to turn Danskammer into a full-time fracked gas power plant would endanger the community in Newburgh and others nearby.5 The potential perils from this facility have sparked residents' fears that the state is moving in the wrong direction when it comes to mitigating climate change.
Among these concerned residents is native New Yorker Mark Sanchez-Potter, who lives four miles from the plant in Newburgh. Mark's involvement in volunteer work with Food & Water Watch and environmental activism naturally developed as he witnessed his community devastated by corporate pollution and, as he puts it, by "neglect" from every level of government.
For years, a military base polluted Newburgh's main water supply with firefighting foam, and the area is now considered a Superfund site.6 Analyses found PFAS (per- and polyfluoroalkyl substances that are toxic waste from chemical manufacturing and related products) in the community's water— highly toxic forever chemicals that have been linked to medical issues like cancer. Outrageously, after these tests were run, state officials failed to warn residents not to drink the water.7 At the time of the interview, Mark said the community was getting its water trucked in from the Catskill Aqueduct.
The proposed expansion at Danskammer would have compounded the health and safety threats already plaguing the community. "These corporations don't give a shit about Black and Brown folks and Indigenous folks, and that's why they put these projects in these communities, and you know they wouldn't put something like this in a white area of Westchester," Mark lamented. The proposed plant would have run year-round and processed fracked gas from Pennsylvania.8 "It's a bridge fuel to nowhere," he says.
From being a former coal plant and now running on natural gas, Danskammer has historically polluted the community. Mark says residents have dealt with high rates of asthma and compounded pollution from vehicles and other modes of transportation. Between 2011 and 2013, the city of Newburgh had more than two times the number of hospitalizations for asthma as the entire state of New York.9 "Old folks, undocumented folks that we've talked to … understand 'I don't want to breathe that.' So, it's not the jargon of environmental science and the environmental movement that they understand, it's the impact."
The majority of the Newburgh community is staunchly against the facility's expansion, but there are communal tensions between the plant's union and its members that support the plant. The potential of new jobs in the area is enticing to blue-collar union members, but Mark says, "you know who these jobs are going to be for? They're not going to be for the Black and Brown people in the city of Newburgh. They're going to be for people outside of Newburgh who don't have any connections or who don't care about their company's polluting."
It's safe to say the community won't go down without a fight. Mark has been involved with various advocacy efforts in Newburgh, from bird-dogging elected officials to participating in a die-in (a visually stunning public action where participants represent the deadliness of a public health issue). He emphasized the importance of putting pressure on former New York Governor Andrew Cuomo. "Governor Cuomo says he's a climate leader, but I feel like he's wishy-washy with a lot of climate issues." Mark adds, "He has the executive power to stop the application process and … the plant. He has the ultimate authority."
"We have to think of renewable energy," Mark affirmed. "We need to be investing in renewable energy with an emphasis on a just transition for union workers." New York has legislation in place to get the state to 70 percent renewable energy by 2030 (although 100 percent would be optimal). Former Governor Cuomo himself had been vocal about shifting the state to renewables, while creating clean energy jobs for New Yorkers.10 But to communities like Newburgh, it seems like lip-service. According to Mark, "our energy needs will be met without Danskammer. We don't need it." Governor Hochul's October denial of the Danskammer permit in October 2021 shows what real climate leadership looks like. The next step for her administration is to halt all fossil fuel development.
You helped us stop Danskammer. Let's beat the next environmental threat in NY, too! We need a ban on cryptocurrency mining powered by fracked gas!
Part 3:
A California Community Member Becomes An Advocate
Kitty Merrill's fight against the proposed Puente Plant in Oxnard, CA led her to become an environmental activist.
Kitty Merrill lived peacefully on the south end of Oxnard, California with her family for decades, completely oblivious to the "chemical soup" of pollution all around them. "It had this really charming feel," Kitty described first moving to Oxnard. "You could drive and smell the strawberry fields, it's just really cool." And then, one day, a text message from her adult daughter changed everything.
"Did you know you're in one of the most polluted areas in the region?" the text message read. Oxnard, California is flanked with contamination from mega agricultural operations, power plants, a wastewater treatment facility and a Superfund site — marking a history of pollution.11 "We get particulate matter from power plants; there was a recycling plant that turned out to be a Superfund site with toxic waste," says Kitty. The strawberry fields that once enticed Kitty and her family turned out to be heavily sprayed with pesticides. "I realized this really wonderful environment that we sought out to raise our kids was really a toxic one."
In an area that is predominantly Hispanic and lower-income, residents are faced with terrible air quality and asthmatic conditions.12 In 2013, Oxnard had some of the worst air quality scores in all of Ventura County,13 and residents have reported feeling symptoms consistent with asthma.14 Kitty said she started hearing about asthma in the community and realized that her daughter first got asthma in elementary school. A lot of her daughter's friends are also asthmatic. "It's not just a statistic, it's something that I was seeing in the real world, on a day-to-day basis." She admits, "it never clicked with me that there was a connection."
The pollution in the area often goes unacknowledged by the wider community, becoming an invisible threat. "People don't really discuss pollution issues," says Kitty. At the community college where Kitty worked, she was surprised that her students were not more passionate about the environmental issues in the community. "They were more concerned about bread and butter," she recalls. The students "had parents that were agricultural workers" with "different levels of documentation," which made it hard for them to focus their energy on the less obvious environmental dangers in the community. "They weren't at the level where they could afford to start thinking about the health effects and the things … that are less immediate."
At the same time, the community's health issues were being exacerbated by the high concentration of existing natural gas plants in the area and threatened by repeated proposals for new ones, including power plants along the local beaches. When the Puente Plant was proposed for Oxnard, a coalition of fed-up locals, including Kitty, started rallying against the highly contentious facility.15 She began speaking out against the plant at community meetings, which was something she "had never done before." "It was something I really felt strongly about, and I wanted to make sure that I could do what I could for my community."
Ultimately the Puente proposal was knocked down after widespread opposition, but as California continues to be ravaged by larger and larger wildfires each year, it becomes all the more crucial to move away from fossil fuels in general. In fact, the state's demand for electricity has declined in the past decade.16 "We're at a point where so many things are changing in technology, that locking our community into fossil fuels for 20, 40 years … was just ridiculous."
Kitty continues to push for clean energy measures in her community, working alongside organizations like her local 350.org chapter, the Ventura Climate Hub, Food & Water Watch and other California organizers. "We've been putting our energy into county-level things." She hopes that small changes on the local level will have a ripple effect at the state level. "I think that time is on our side, and in the same breath I can say time is against us because climate change is clearly here." Despite it all, Kitty remains hopeful about "the possibility of change in our future."
You can stand with us. Urge Governor Newsom to stop all new fracking and drilling permits in CA!
Part 4:
The Ripple Effect of People Power in New Jersey
Bill McClelland has become a seasoned veteran in the battle between concerned residents and persistent power plants in New Jersey.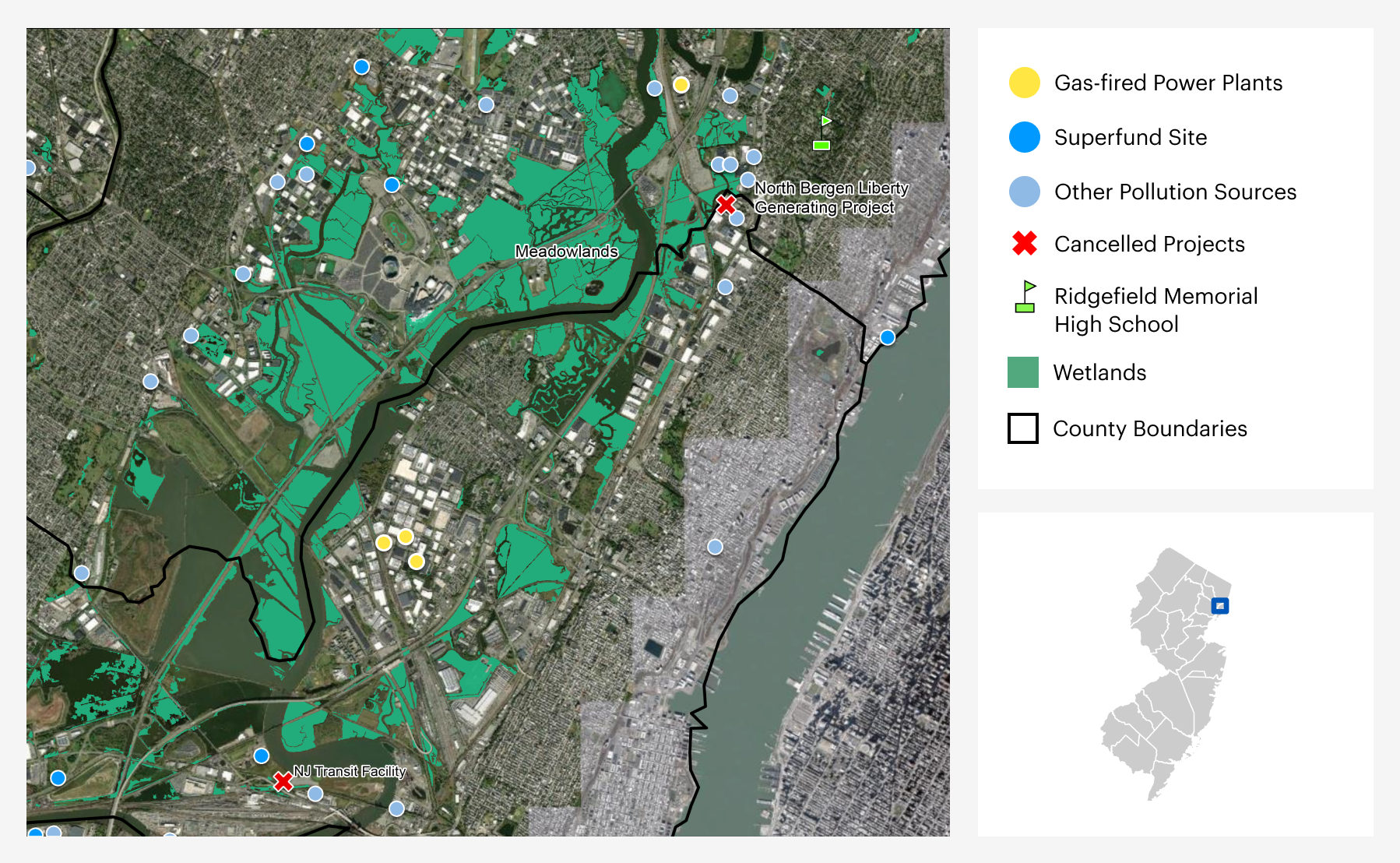 Despite the political clout and deep coffers of the fossil fuel industry, the collective action of the people can be even more powerful. Sometimes all it takes is a dedicated and passionate community unwilling to compromise. Bill McClelland has watched this play out in his diverse community in Hudson County, New Jersey where he has lived for the past four decades. "Obviously the goal is to ban and stop all fossil fuel projects," Bill says.
Having lived in New Jersey for so long, Bill is familiar with the pollution that has plagued the state and his neighborhood in Hudson County. He says that over the decades, industrial development has resulted in "all sorts of environmental problems," from "illegal dumping" to chromium pollution. Bill's community is home to a large Superfund site, where for decades an oil processing plant spewed millions of gallons of contaminants into the soil and wetlands — including lead.17 "These industries, because they are in such isolated areas, can get away with anything."
Historically, Hudson County has had air quality issues, receiving an "F" rating from the American Lung Association for ozone pollution from 2016 to 2018.18 Air pollution has also been linked to environmental justice issues in New Jersey, and one study found that particulate matter, a major natural gas plant pollutant, is associated with higher mortality among Black and lower-income residents.19 Notably, natural gas plants are a major source of particulate matter pollution.20 Yet the industry claims that these plants are "clean" and has been trying to push for new natural gas-fired power plants in New Jersey for years.
When the North Bergen Liberty Generating (NBLG) natural gas power plant was initially proposed in 201821, the community began fighting against its development. According to Bill, the plant would have been located in a pristine wetland called the Meadowlands, close to homes and a school — all of which prompted outcry from residents. Bill participated in a protest that was organized by students called March for Our Lungs, where "hundreds … maybe even a thousand people showed up," he said. "We marched from the high school down to the site where this power plant was supposed to be." Community organizing successfully led to the defeat of those plans at the end of 2020.
On the heels of the NBLG win, the community found itself fighting yet another natural gas plant, this one proposed by New Jersey Transit. "Along came the proposal by New Jersey Transit to build another huge fracked gas power plant on the other side of the Meadowlands." These plans were also quickly shot down after the community stood against the proposal.22 "You've got to be persistent and … you can't be intimidated by these people just because they have power," Bill emphasizes. "We've had two major victories in the last year, and … everyone is just high."
What makes Bill's story so inspiring is that he is a passionate resident committed to a better planet. "You know, I'm not a scientist — I'm a musician." Bill's interest in environmental advocacy started in the late 1980s when New Jersey first passed a mandatory recycling law. "I called the town, totally out the blue … and said 'you need any help?'" The rest is history. As only a volunteer, Bill helped start up the state's recycling program; he's worked with North Bergen's assemblymen on environmental issues over the years, and now stands with his community against natural gas power plants.
"A lot of these power plants … go on forever, long past time of usefulness, and they just get dirtier and dirtier and cause more problems." But Bill remains motivated to continue to fight these natural gas proposals. "Our primary goal is to stop construction of any new power plants that plan to burn fossil fuels." Riding the high of these wins, Bill and other community organizers and organizations are committed to banding together to fight other proposals around the state. He is now assisting in efforts to stop New Fortress Energy's proposal for an LNG export terminal known as the Gibbstown Facility.
"I hope others seeing this say 'wow it can be done,'" Bill says. Although it can be daunting to directly address the powers that be, the communities in New Jersey have proved to be fearless. And while he's not sure he'll be around long enough to witness a less-exploitive world, Bill remains hopeful for the future.
Help Bill keep NJ free from new fossil fuel infrastructure. Your voice makes a difference!
Part 5:
Conclusion
Our future depends on us creating the political will to ban fracking and stop the buildout of more fossil fuel infrastructure.
Our current energy system is unsustainable and dangerous to communities and people all across the United States. The continual push for more fracking has only further propped up the toxic oil and gas industry, with little regard for the communities carrying the burden of these consequences. The time for an energy system overhaul is now, and the good news is that people power can work with time and dedication. We need to ban fracking and make the shift to clean, renewable energy — because the health and safety of our communities and our very futures depend on it.
For clean energy to heal our planet, we must also ban fracking.
Add your name to the movement!
Endnotes

U.S. Department of Energy (DOE). Energy Information Administration (EIA). "Natural gas explained: Natural gas and the environment." Updated September 24, 2020. Available at https://www.eia.gov/energyexplained/natural-gas/natural-gas-and-the-environment.php. Accessed March 2021 and on file with Food & Water Watch (FWW).
Fard, Reza Fouladi et al. "The assessment of health impacts and external costs of natural gas-fired power plant of Qom." Environmental Science and Pollution Research. Vol. 23, No. 20. August 2016 at 20922; Public Service Commission of Wisconsin. "Environmental Impacts of Power Plants." June 2015 at 5.
McKenna, Chris. "DEC rejects key permit for proposed Danskammer power plant in Newburgh." Times Herald-Record (NY). October 27, 2021; FWW. [Press release]. "NY Governor Hochul rejects applications for Danskammer and Astoria fracked gas plants." October 27, 2021.
U.S. Census Bureau (USCB). QuickFacts. Available at https://www.census.gov/quickfacts/newburghcitynewyork. Accessed January 2021.
TRC. Prepared for Danskammer Energy, LLC. "Preliminary Scoping Statement, Danskammer Energy Center." Case No. 18-F-0325. February 2019 at 5-11.
U.S. Environmental Protection Agency (EPA). "What is Superfund." Available at https://www.epa.gov/superfund/what-superfund. Accessed May 2021.
McKinley, Jesse. "Military base near Newburgh is made a Superfund site over tainted water." New York Times. August 12, 2016.
Bellamy, Lana. "Danskammer Energy looks to hydrogen for future power; activists claim company is 'greenwashing'." Times Herald-Record (NY). August 31, 2020; FWW. "Twenty cities and towns in New York unite to oppose Danskammer fracked gas plant." June 22, 2020.
New York State Department of Health (DOH). "City of Newburgh: Health Equity Report." February 2017 at 16 and 20.
Walton, Robert. "New York expands state clean energy standard, moves to boost renewables use in the Big Apple." Utility Dive. October 16, 2020; New York State Energy Research and Development Authority (NYSERDA). [Press release]. "Governor Cuomo announces new competitive program to retain New York's existing renewable energy resources." January 22, 2021.
Boyd-Barrett, Claudia. "As California's ports expand, neighboring communities fight back against pollution." California Health Report. March 18, 2019; Homefacts. "Ventura County, CA Environmental Hazards Report – Superfund Sites." Available at https://www.homefacts.com/environmentalhazards/superfunds/California/Ventura-County.html. Accessed January 2021.
Boyd-Barrett(2019); USCB.
"Environmental report shows Oxnard has worst score in the county." Ventura County Star. April 23, 2013.
Dignity Health St. John's Hospitals. "Oxnard, California Latino Community Health Needs Assessment." April 2014 at 11 and 26.
Weikel, Dan. "Oxnard residents are fighting slag heaps, power plants and oil field that mar the town's beaches." Los Angeles Times. July 9, 2017.
Penn, Ivan and Ryan Menezes. "Californians are paying billions for power they don't need." Los Angeles Times. February 5, 2017.
D'Auria, Peter. "Who will foot $24M bill to clean up one of Hudson County's most polluted sites?" Jersey Journal. October 8, 2020.
American Lung Association. "State of the Air: 2020." 2020 at 121.
Wang, Yan et al. "Estimating causal effects of long-term PM2.5 exposure on mortality in New Jersey." Environmental Health Perspectives. Vol. 124, No. 8. August 2016 at 1182.
Massetti, Emanuele et al. Oak Ridge National Laboratory. Prepared for DOE. "Environmental Quality and the U.S. Power Sector: Air Quality, Water Quality, Land Use and Environmental Justice.". ORNL/SPR-2016/772. January 4, 2017 at vii and 15.
Heinis, John. "DEP grants first land use approval for $1.8B North Bergen electricity plant." Hudson County View. July 6, 2018.
Johnson, Tom. "NJ Transit opts for green energy, ending plan for gas-powered plant." NJ Spotlight News. October 23, 2020.
FWW analysis of Power Plants. US Energy Information Administration (EIA). Accessed March 2021; 2019 American Community Survey 5-Year Estimates. US Census Bureau. Accessed March 2021; 2019 TIGER/Line Shapefiles. US Census. Accessed March 2021.
FWW analysis of TRI Explorer. US Environmental Protection Agency (EPA). Accessed March 2021; Superfund National Priorities List (NPL) Sites with Status Information. EPA. Accessed March 2021; Pollution Mapping Tool. California Air Resources Board. Accessed March 2021; WellSTAR. California Department of Conservation. Geologic Energy Management Division. Accessed March 2021.
FWW analysis of TRI Explorer. US Environmental Protection Agency (EPA). Accessed March 2021; Superfund National Priorities List (NPL) Sites with Status Information. EPA. Accessed March 2021; Power Plants. US Energy Information Administration (EIA). Accessed March 2021; Wetlands of New Jersey. New Jersey Geographic Information Network (NJGIN) Open Data. Accessed March 2021; Proposed NJ TRANSITGRID Project Area. NJ Transit. Accessed March 2021.