New York Is About to Ban Gas Hookups in New Buildings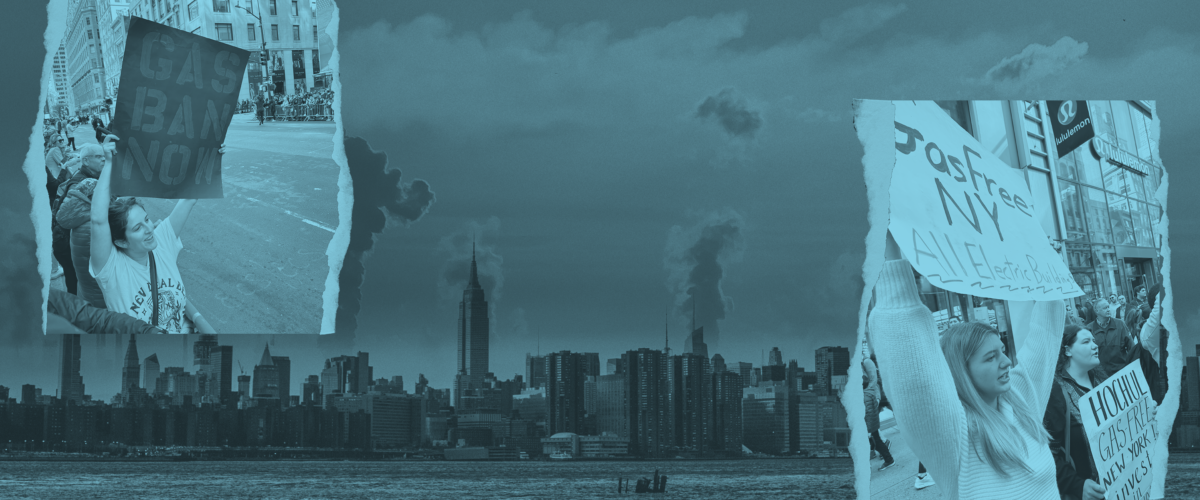 New York is so close to becoming the first state to ban gas hookups in new buildings. Here's how the move will save our wallets, our lives, and our planet.
New York is so close to becoming the first state to ban gas hookups in new buildings. Here's how the move will save our wallets, our lives, and our planet.
Update (May 2, 2023): This week, Governor Kathy Hochul and leaders in the state legislature announced their 2023-24 state budget, which will make New York the first state in the country to ban fossil fuels in new buildings. The budget sets the stage for the gas ban to take effect in 2026 for new buildings under seven stories. The policy will apply to taller buildings in 2028.
While the gas ban goes into effect after our goal date, this is a landmark victory for the climate movement. It will set a huge precedent for the rest of the country, and we look forward to other cities and states following suit.
Right now, we're all reaching for that thermostat to make it through the winter. Home heating isn't just a comfort — on the coldest nights, it saves lives. So what if there was a way to make this essential less expensive, while also helping the planet? 
Good news — there is! And New York is so close to getting there. Over the past few years, Food & Water Watch and our allies have fought for the state to ban fossil fuel hookups and require electric-only power in new buildings.
As the All-Electric Building Act moves through the State Assembly, the case for a gas ban is stronger than ever. Fossil fuel hookups drive climate change, make essential heat unaffordable for many, promote fracking, and pose dire public health risks.
That's why this week, we joined allies in Albany to call on Governor Hochul and the Legislature to pass the All-Electric Building Act this spring. The time is now to push the state — and the rest of the world — closer to an all-electric future.
We Can't Afford Fossil Fuel Heating
We've all seen the price of heat rising, yet again. Nationally, families face an average 28% increase in heating costs this winter. Some New York families will see their rates skyrocket by 50%.
But this is only the latest in a long history of swings and spikes under fossil fuel markets. We can get off the rollercoaster by transitioning oil- and gas-powered heat to electric.
Heating homes through electric methods like heat pumps is much less expensive than the dirty alternatives. By one estimate, the All-Electric Building Act could save the residents of new New York homes $904 a year on energy bills.
All-Electric Buildings Will Save Lives
There are plenty of other reasons to ban gas and other fossil fuel hookups. For one, New York emits more air pollution from buildings than any state in the country. And air pollution isn't only outdoors — it's in our homes.
Gas appliances like stoves leak dangerous pollutants right into the places where we eat, sleep, and play, with toxic consequences. Evidence is growing that gas stoves contribute to childhood asthma. Gas appliances and gas lines also threaten families with deadly explosions and carbon monoxide poisoning.
In New York City alone, indoor fossil fuel combustion causes more than 1,000 premature deaths per year, and costs $12.5 billion in healthcare. People of color suffer disproportionately from these harms.
Banning fossil fuel hookups and replacing gas appliances with electric ones will eliminate these threats and save lives.
We win victories like this with supporters like you!
If We Can Make it Here, We Can Make it Anywhere: New York City's Gas Ban
In 2021, Food & Water Watch and our allies won a gas ban for new buildings in New York City. That campaign took 10 months of rallies, letters, calls, and actions.
It all paid off, as we secured a ban in the largest city in the United States.
That win showed the power of strong coalitions; of grassroots organizing and local communities coming together; of centering intersecting issues like housing, public health, and justice; and of creating a diverse, people-powered movement.
What's more, we successfully leveraged that people power against some of the state's biggest heavy weights—dirty energy companies, frackers, and real estate giants.
While we organized in the City, we drew from lessons learned and prepared to take the campaign to the next level. As soon as the New York City gas ban passed, we called on Governor Hochul to pass a statewide ban. Now, we're pushing harder than ever to get it passed through the state budget this spring.
New York Could Lead the Way in the U.S. and Beyond
Unlike Las Vegas, what happens in New York doesn't stay in New York — our ideas take wing. New York can make sea change when it comes to electrifying its buildings and reducing climate pollution.
Almost a third of the state's climate pollution comes from buildings, making them New York's top source of emissions. With tens of thousands of buildings built in the state each year, a gas ban would keep 4 million metric tons of emissions out of the atmosphere. It would also strike a huge blow against the fracking industry by cutting a sizable slice of its market.
The case for passing a ban on fossil fuels in new buildings is stronger than it's ever been. Right now, 80 members of the state legislature co-sponsor the All-Electric Building Act. A vast majority of New Yorkers support a mandate for emissions-free heating in new homes.
Moreover, New York has just adopted a Climate Action Plan, pushing the state to reach 70% renewable energy in the next seven years. To that end, the plan calls for transitioning homes to clean heating. Passing the All-Electric Building Act will be central to meeting this goal.
If passed, the Act would become the first of its kind in the country, setting a powerful precedent nationwide. That's why Governor Hochul and the Legislature must pass the ban this year. Our families and our planet can't wait.
Help us fight for an end to fossil fuels in New York and beyond!