Why Food & Water Watch Works: Victory for GasFreeNYC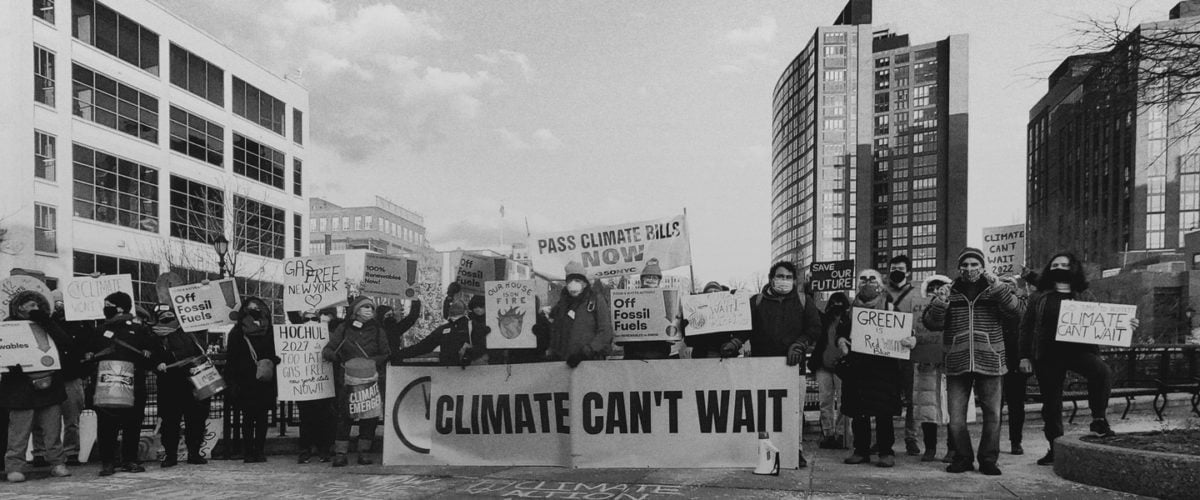 In 2021, Food & Water Watch celebrated a huge win with the GasFreeNYC Coalition. NYC's ban on gas hookups in new construction is a prime example of how and why our tactics work.
In 2021, Food & Water Watch celebrated a huge win with the GasFreeNYC Coalition. NYC's ban on gas hookups in new construction is a prime example of how and why our tactics work.
In New York, buildings are the top emitters of greenhouse gasses. Real estate moguls and Big Oil and Gas have spent big to keep it that way. But in 2021, Food & Water Watch joined local organizations to fight for a ban on gas hookups in new construction. We had 10 months to pull it off.
Here's how we did it.
Choosing The Right Target
Then-Mayor Bill DeBlasio supported the ban, which was helpful politically. But what really mattered was getting the City Council on board, because that's where the ban would be passed. Food & Water Watch joined New York Communities for Change (NYCC), NYPIRG and WE ACT for Environmental Justice in the #GasFreeNYC coalition. Together, we went to work.
GasFreeNYC's strategy focused on key decision-makers who had the most power to get a gas ban on the books. In New York City, the City Council Speaker is crucial to introduce and move bills through the Council. At the time, that was Council Member Corey Johnson, who was coincidentally running for city-wide office as comptroller. The first step was getting the speaker to allow the bill to be introduced. The coalition gathered volunteers for a huge call-in campaign to his office, funneling more than 100 calls in one day. It worked — Johnson introduced the gas ban bill in City Council.
Next, as Johnson campaigned for comptroller, FWW and our allies began showing up at his events. For instance, we held a rally in front of the Rockefeller Center as the comptroller electoral debate took place inside.
When we still didn't have Johnson's commitment on the bill, we turned to other council members. GasFreeNYC mobilized constituents to contact their council members again and again, racking up cosponsors on the bill. We held "street lobby" days, speaking with members on sidewalks as they headed into Council meetings. We even held a die-in outside City Hall to mourn those who died from flooding during Hurricane Ida — yet another storm supercharged by climate change. The result of all this organizing: more than 20 council members cosponsored the bill by mid-September. By the end of the month, Johnson stated publicly that he supported the bill.
Getting The Ban On The Books
Now, GasFreeNYC had to fight for a public hearing. Without a public hearing, the bill would fade, but with a hearing, it would almost surely pass. We needed to convince the Council's Environmental Committee Chair to schedule the hearing. Chair Jim Gennaro's election to City Council was supported by significant contributions from the real estate industry, which opposed the bill. Needless to say, Gennaro was a hard sell.
After two months of pressing the council member, though, a flip switched. While we can't know for certain why he changed his mind, it's clear that the bill would not have passed without the support of the Mayor, the Speaker and thousands of mobilized constituents.
Getting to the public hearing was one of the most important steps in the fight, and GasFreeNYC didn't hold back. Before the hearing, over 100 supporters and elected officials gathered at a virtual rally. Then, five-hours-worth of testimony from GasFreeNYC activists, industry professionals and everyday residents brought the bill to final negotiations.
Finally, all parties met at the negotiating table.
Staying The Course In The Homestretch
FWW has a long history of pushing political boundaries and steadfastly sticking to its positions. It's a bold strategy that few other national environmental organizations have used, but it's won us vital victories — perhaps most notably, New York's fracking ban.
On the gas ban campaign, that strategy worked once again. We stopped eleventh-hour loopholes pushed by opponents. All the months of organizing proved to council members that GasFreeNYC's line had public attention and power. They knew that if GasFreeNYC wasn't happy with the final bill, it wouldn't pass.
At the council's final meeting of the session, Food & Water Watch and the GasFreeNYC coalition won a gas-hookup ban for all new construction and retrofits. That ban means 2,000 new buildings per year will be fossil fuel free.
Why We Won
The GasFreeNYC campaign worked because it represented the communities at stake. Local activists and residents of color were integral to the fight. We also centered housing and justice issues in the conversation. The arguments and members of the Coalition showed that this was a movement of everyday New Yorkers, not elites or outsiders.
Additionally, activists and residents were committed to people power. They showed up at rallies, protests and events. That showed council members how important this issue was to voters, and it garnered media attention that propelled the movement further.
As a large organization with its own base in different states, FWW prioritizes organizations on the ground. It leverages its national donor base and its resources, while centering the voices of those closest to the issue. In NYC, this meant contributing organizers and a large group of activists with long histories of fighting fossil fuel interests in New York, through pipeline and power plant projects, all the way back to the original ban on fracking.
GasFreeNYC showed the power of real grassroots organizing — Food & Water Watch's bread and butter. No amount of behind-the-scenes lobbying or dark money donations could win against constituents demanding change, en masse, from the representatives they elected.
We win with help from supporters like you.