The Story of Your Year with Food & Water Watch
Our 2021 together, in review. Made possible by members like you.
Photos by Rebecca Wolf, Hannah Benet and Survival Media Agency
It's our year in review! The Story of Your Year shows the real results from your investment in Food & Water Watch, including actions you and our members took that moved our mission forward in 2021 — petition signatures, calls, texts, and emails to legislative offices, letters to the editor, and the many other ways our members invested their time this year. From rallying against pipelines to exposing the suffering caused by factory farm pollution, and more — we showed up, we fought for our climate and resources, and we're winning.
This dive into the numbers showcases some of our 2021 accomplishments. It highlights our strength – the movement we continue to build and the momentum you've created. We look forward to even greater successes in the coming year!
The passion you bring to the fight for our food, water, and climate makes all of our victories possible — including those in the video and stats below:
---

In 2021, the EPA has only banned one pesticide, chlorpyrifos. For years, we've been fighting for them to ban glyphosate. We sounded the alarm, published research and educated policymakers about its danger.
We compiled data that showed glyphosate:
Interferes with hormone levels, even when its residue on foods is present at low levels;
Is a "probable carcinogen," linked strongly to non-Hodgkins lymphoma, according to the World Health Organization's International Agency for Research on Cancer — which has underpinned many of the lawsuits against Monsanto/Bayer;
May contribute to antibiotic resistance in certain bacteria;
May be linked to reproductive issues and birth defects; and
Is widely present in our food.
In part because of our work, Bayer announced it would be pulling glyphosate from consumer products! We have more work to do — they'll still be selling it for large-scale agriculture which is its path to our food — but this is a step in the right direction.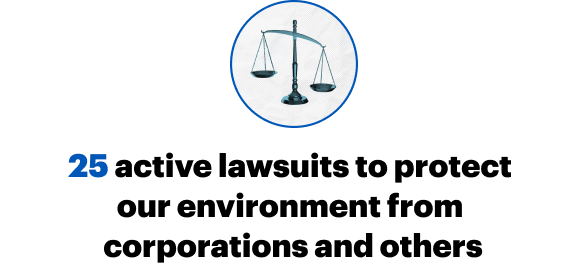 In 2021, Food & Water Watch challenged dozens of corporations and government regulators in court. We're fighting to put people ahead of corporate profit.
Late this year, Food & Water Watch won a landmark lawsuit against the Environmental Protection Agency. Our victory will force the EPA to enforce the Clean Water Act and require factory farms in Idaho to monitor and report on their water pollution.
This means that polluting factory farms in Idaho must now comprehensively monitor and report on water pollution for the first time. More importantly, the precedent is relevant everywhere across the country where factory farm permits take the same illegal approach.
We will use this huge win to fight factory farm pollution across the country!
Without monitoring, factory farms have polluted at will for decades. Our victory is a critical first step to hold the industry accountable; it brings us closer to banning factory farms forever.
Thanks to pressure by Food & Water Watch and allies, the House of Representatives passed the PFAS Action Act of 2021, jumpstarting regulations for per-and polyfluoroalkyl substances (PFAS), toxic lab-made "forever chemicals." The legislation would require the EPA to set drinking water standards for the two most-studied PFAS chemicals and would designate these as "hazardous substances" under the Superfund program to promote the cleanup of toxic sites.
Studies show that long-term exposure to PFAS is associated with many health problems, including liver malfunction, birth defects, thyroid disease, weakened immunity and cancer. PFAS has been found in the blood of 97 percent of people in the United States and in human breast milk, and more than 200 million people in the country could be drinking PFAS-contaminated water.
Food & Water Watch's fight for clean drinking water is making a difference. We will continue to fight alongside you for everyone to have access to clean public water.
Your support brings a team of volunteers together to fight for and advance our mission, guided by our organizers and empowered by our research, legal expertise, and advocacy.
In 2019, we piloted our first formal volunteer program, the Food & Water Volunteer Network. Big, systemic change takes mobilizing people-power to convince decision-makers. We know that the larger our movement, the bigger the impact we can make.
Food & Water Watch volunteers take on leadership roles aligned with their skills and build our capacity to pressure elected officials at all levels. We have formally launched volunteer hubs in Florida, New York, Iowa, California and Oregon and we'll be adding more in 2022.
If you're eager to take an extra role in this movement, join Food & Water Watch's volunteer network. We'd love for you to join us for national volunteer calls, ​​trainings and workshops, and to work alongside other dedicated volunteers throughout the country. Our volunteers change the world, one location at a time! Learn more: fwwat.ch/volunteer2021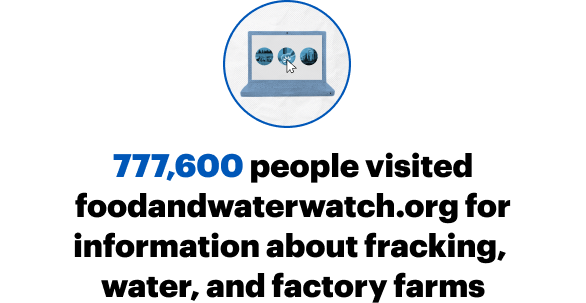 Food & Water Watch delivers groundbreaking research and bold policy recommendations on climate change under three interrelated fronts. A sustainable food system, safe, affordable water, and leaving fossil fuels in the past all help to create a livable future. Food & Water Watch provides scientific, factually grounded educational tools to inform the public and elected officials about these issues.
Our members do a wonderful job sharing these resources to spread awareness of the bold solutions Food & Water Watch is fighting for.
Here are the top 5 articles our members read and shared this year:
Fracking, Federal Lands, and Follow Through
Monsanto — Er, Bayer — Will End Glyphosate Sales. It's Not Enough.
Guide To Safe Tap Water And Filters
5 Big Misconceptions About President Biden's Fracking And Drilling Orders
And our debut digital report showcasing our new digital format and showing a path forward for our food system:
Well-Fed: A Roadmap To A Sustainable Food System That Works For All
We at Food & Water Watch are grateful for your generosity.
Your investment in the fight for safe food, clean water, and a livable climate makes a huge impact. Thank you for standing with us to make a difference and fight like you live here!
Your help has been pivotal.
Thanks for everything you do!