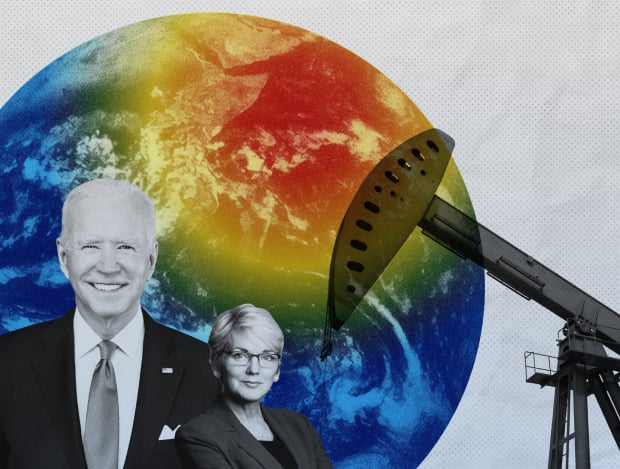 President Biden promised to confront fossil fuels' role in the climate crisis. He and his cabinet have consistently ignored that pledge.
President Biden promised to confront fossil fuels' role in the climate crisis. He and his cabinet have consistently ignored that pledge.
President Biden has promised to address the climate crisis, which he has called the "existential threat of our times."
His administration claims to be pushing to achieve carbon-free power by 2035, and has set a goal of having a "net zero" economy by the year 2050. And he repeatedly vowed that he would stop fracking on public lands: "No more fracking on public lands. Period. Period."
And when Biden signed his climate-focused executive orders in January, he declared: "It's not time for small measures. We need to be bold."
But do his administration's words and actions meet his promises? In short, no. We have receipts and we'll keep tracking them — check them out below — month by month, year by year.

Last Update 3/13/23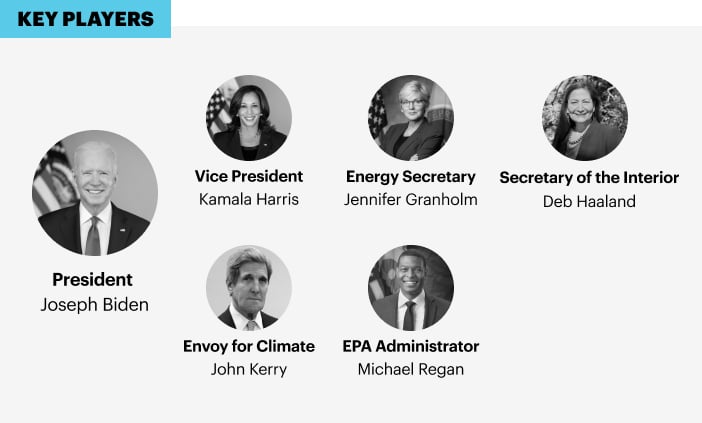 Archives
2023

May 30, 2023 — Disingenuous MVP Defense

White House Press Secretary Karina Jean-Pierre fields several questions from reporters about why approval of the Mountain Valley Pipeline features so prominently in the debt ceiling deal.

"It was going to move forward with or without this bill. That is just how — that is just fact… The bill doesn't really do much as it relates to that project, to be quite honest."

Of course, if the pipeline is basically a done deal, why would it need the federal government to expend so much effort to expedite its approval? As Jessica Sims of Appalachian Voices put it, "If the ruinous, unneeded Mountain Valley Pipeline was moving forward on its own merit, it would not need unprecedented interference from the Administration and members of Congress."

May 28, 2023 — Debt Deal Fast Tracks Manchin's Pipeline

Details emerge that the Biden administration's spending and debt ceiling deal includes provisions that would weaken long-standing environmental reviews and orders the speedy approval of the Mountain Valley Pipeline. The deal seeks to expedite approvals within a matter of weeks and would steer any legal challenges to the D.C. Circuit Court of Appeals.

The move drew sharp criticism from environmentalists and frontline groups. As Food & Water Watch Managing Director of Policy and Litigation Mitch Jones put it,

"In entering into this ill-conceived negotiation with extremist House Republicans, President Biden set himself up for this disastrous result — legislation that would fast-track climate-killing fossil fuels and cut the legs out of cornerstone environmental protections which have existed for decades. If this bad deal goes through, President Biden's legacy on the environment and clean energy will be irreversibly scarred."

May 18, 2023 — MVP Support Couldn't Be Clearer

Energy Secretary Jennifer Granholm once again reiterates her support for the Mountain Valley Pipeline, saying at a Politico event, "We know that there is a real desire to have energy security in areas where there's huge demand for power… We also know that we have got to accelerate investment in clean [energy]."

Granholm's appearance drew protesters who denounced the pipeline; Granholm attempted to acknowledge the difficulty of such decisions, arguing that backing fossil fuel investments is necessary: "Everybody recognizes we're in this interim period that we do not want to be in for long."

Of course, massive fracked gas pipelines are not 'interim' projects — they are designed to last decades.

May 16, 2023 — Forest Service OKs MVP Pipeline

The Biden administration makes another move to bolster the beleaguered Mountain Valley Pipeline, with the U.S. Forest Service approving a permit for the project to run through Jefferson National Forest. The New York Times notes that courts have twice rejected the Forest Service's attempts to permit this construction. Jessica Sims of Appalachian Voices tells The Times that the White House "grossly underestimates the lasting environmental harms from the project."

May 12, 2023 — Pouring Money Into Overseas Fossil Fuels

From the start, the Biden administration has spoken of the need to stop funding overseas fossil fuel projects. But NPR reports that the U.S. Export-Import Bank is loaning $100 million to an Indonesian oil refinery. The move drew criticism from environmental groups, but NPR notes that the agency is considering financing additional fossil fuel projects around the world.

May 10, 2023 — Backing Manchin's Dirty Deal, Once Again

The New York Times reports that the White House has once again thrown its support behind a so-called "permitting reform" plan backed by coal millionaire Senator Joe Manchin. The West Virginia senator has tried to push through the same "dirty deal" several times. This time, the move comes amid negotiations over lifting the debt ceiling. Manchin's main goal is to ensure the completion of the Mountain Valley Pipeline, which has been plagued by dozens of permit violations, cost overruns, and legal challenges.

May 3, 2023 — Ramping up Peaker Plant Pollution?

E&E News reports that the Biden administration's new power plant emissions reduction rules are likely to exclude "peaker" plants. The story notes that these facilities, which operate only intermittently, "are often located in urban areas, raising concern among some environmental advocates that the agency's climate rules on power plants could lead to increased pollution in low-income communities."

April 25, 2023 — Podesta's Dodgy Climate Math

In a New Yorker interview, Biden senior adviser John Podesta argues that opponents of the massive Willow oil drilling project are overstating the damage it will do, since the administration also passed the Inflation Reduction Act (IRA), which will spur more clean energy:

"I'm not trying to minimize, but it's less than one percent of the emission reductions that come from the IRA. I think the opponents have overstated the climate effect. It's nine million metric tons—that's significant—of annual emissions. [Others have shared higher estimates.] In comparison, our annual emissions in 2030 will be a gigaton lower than they would be otherwise, owing to the IRA."

Biden Senior Adviser, John Podesta

Of course, reducing emissions is a good thing. But approving projects that will create new emissions means you are in effect negating some of those reductions. By the administration's own analysis, Willow could spew 287 million metric tons of carbon pollution into the atmosphere over its expected lifespan, which is roughly the same as 76 coal plants in a single year. There is no way to spin this into good news; we cannot make progress fighting the climate crisis by approving new fossil fuel projects.

April 22, 2023 — Power Plant Rules to Rely on So-Called Carbon Capture

The New York Times reports that the Biden administration will soon issue power plant rules that would rely on carbon capture technology to meet new pollution reduction requirements. The newspaper unfortunately bungled the details, which should be very well known by now: There are no power plants that use carbon capture technology, and none expected any time soon.

The technology has been a colossal failure, wasting billions of dollars trying to demonstrate the supposed allure of 'clean coal.' The Times cites the lavish subsidies for carbon capture in the Inflation Reduction Act as evidence that the technology is set to take off. But throwing good money after bad is not the sign of a workable plan – it's evidence of a serious problem.

April 21, 2023 — Still Promoting Manchin's Favorite Fracking Pipeline

Energy Secretary Jennifer Granholm sends a letter to the Federal Energy Regulatory Commission (FERC) supporting the disastrous Mountain Valley pipeline. Granholm asserts that fracked gas has an "important role as part of the clean energy transition," and that the 300-mile pipeline across Virginia and West Virginia will "enhance the Nation's critical infrastructure for energy and national security."


The pipeline, which is a favorite of fossil-fuel-friendly Senator Joe Manchin, recently faced another court setback, as the 4th Circuit Court of Appeals struck down a key water permit necessary to finish the project. And many observers noted the irony of the letter coming on the same day that Biden signed an executive order aimed at bolstering his environmental justice credentials. As the Michigan Environmental Justice Coalition tweeted, "This is hypocrisy! Fossil fuels are at the root of environmental injustice. Michigan stands in solidarity w/Appalachia AGAINST this dirty project."

April 21, 2023 — Haaland's Dubious Defense of Alaska Carbon Bomb Drilling Project

Appearing at a convention of environmental journalists, Interior Secretary Deb Haaland defended the Biden administration's decision to approve a massive oil drilling project in Alaska. The Willow project, which is projected to produce up to 180,000 barrels of oil a day, was opposed across the board by environmentalists and climate activists.

According to the Associated Press, Haaland told the crowd that despite Biden's promise to stop drilling on public lands, "We're not going to turn the faucet off and say we're not drilling anymore.″ But the Willow approval is not about turning off a faucet; it is a decision to allow a faucet to run years from now, and for decades to come.

April 13, 2023 — Alaska LNG Exports Gets Green Light

The Biden administration approves exports from a massive $39 billion liquified natural gas project that is proposed in Alaska. Reuters notes that the export plan had been previously approved by the Trump administration; the Biden White House conducted its own environmental review, and rejected opponents' arguments that this massive fossil fuel project is not in the public interest. If it is eventually built, estimates suggest the project could create 2.7 billion tons of carbon pollution.

April 4, 2023 — Tripling Down on Fracking to Feed Europe

Politico reports that U.S. officials are once again reiterating their commitment to increasing fracked gas shipments to Europe. At a summit with EU leaders, Secretary of State Anthony Blinken cheered that the "United States and Europe have thrown our energy security cooperation into even higher gear," with a goal of delivering at least 50 billion cubic meters of gas this year. European Commissioner for Energy Kadri Simson added that this "is not a temporary situation, but marks a structural change in Europe's energy outlook and trade orientation."

March 29. 2023 — 'Climate Law' = More Drilling Leases in the Gulf of Mexico 

The Biden administration announces that a few dozen oil and gas companies placed bids to drill in the Gulf of Mexico, in an area that spans over 1.5 million acres. The announcement states that the drilling leases were carried out "as required by Congressional direction in the Inflation Reduction Act" – a not-so-subtle reminder that the climate law championed by the White House requires substantial actions to benefit fossil fuel polluters. The Guardian notes that the drilling area is roughly the size of Italy, and calls it "the latest blow to Joe Biden's increasingly frayed reputation on dealing with the climate crisis."

March 13, 2023 — Lighting the Carbon Bomb in Alaska

In spite of a massive push by climate activists and environmentalists, the Biden administration approved ConocoPhillips' massive Willow oil drilling project on the North Slope of Alaska. The project – dubbed a 'carbon bomb' by critics – is estimated to produce up to 280 million metric tons of carbon pollution over the next 30 years. The decision is a stark turn away from Biden's campaign promises to stop new fossil fuel drilling on public lands: ("No more drilling on federal lands, period. Period, period, period.")

Food & Water Watch Executive Director Wenonah Hauter called the decision "part of a disturbing and disappointing trend with this White House. President Biden refuses to take the necessary actions to rein in climate catastrophe, while issuing rhetoric that professes concern for the existential threat that we all face."

March 8, 2023 — Granholm's CERAWeek Keynote

Energy Secretary Jennifer Granholm gives a keynote address at CERAWeek, one of the most important industry conferences.

In her remarks she tells attendees:

"We know that oil and gas will remain part of our energy mix for years to come. And we know that even the boldest projections for clean energy deployment suggest that, in the middle of this century, we'll be using abated fossil fuels."

That message – that fossil fuels are essential far into the future, and that as of yet nonexistent carbon capture technologies will extend that timeline even further – is exactly what the oil and gas industry is saying. Granholm also celebrates an all of the above energy strategy, saying that "we are growing the energy pie." But that vision does not inhibit fossil fuels, which means it does not reduce climate pollution.

Granholm also goes on to cheer the "courageous visionaries" in the room, touting their the ways their expertise will translate into other areas: "Your breakthroughs in fracking give you a massive advantage in geothermal."

February 15, 2023 – EPA Won't Step in On TVA Gas Expansion

The Associated Press reports that Biden's Environmental Protection Agency (EPA) has agreed to a plan by the Tennessee Valley Authority to replace some of its aging coal fleet with a gas-fired power plant. Environmentalists had been hopeful after the EPA expressed concerns about the climate pollution that would be created by the new gas plants, and questioned the utility's claims about the long-term impacts of its decision.

Groups opposed to the gas plant sent a letter to EPA Administrator Michael Regan urging him to refer the matter to the White House Council on Environmental Quality. The agency declined, and the TVA announced it was moving forward with its plan.

February 7, 2023 — Fossil Fuels Are Here to Stay

During his State of the Union address, President Biden made a few apparently unscripted comments boosting fossil fuel production. After criticizing oil companies for complaining that their business is being shut down, Biden said, "We're going to need oil for at least another decade." And that's going to exceed — and beyond that — we're going to need it."

Moments later, he added: "I'm proud of how America at last is stepping up to the challenge. We're still going to need oil and gas for a while."

In response, Food & Water Watch Executive Director Wenonah Hauter said:

"President Biden rightly identified the climate crisis as an existential threat driven by the fossil fuel industry. Yet his energy agenda boldly encourages expanded oil and gas drilling and fracking across the country. Rather than pushing for a quicker end to fossil fuel development, President Biden is approving new drilling at a quicker pace than Trump did. There couldn't be a greater contradiction in Biden's statements and actions."

February 1, 2023 — Alaska Drilling Project Gets Green Light

In a closely-watched decision, Biden's Interior Department issued an environmental assessment of the massive Willow Project, a $8 billion drilling plan advanced by ConocoPhillips in Alaska's North Slope. The administration recommends a slightly modified version of the company's plan, which would yield about 600 million barrels of oil over 30 years. While the decision is not a final approval, it prompts outrage from climate and environmental groups. Karlin Nageak Itchoak of the Wilderness Society is quoted by the Guardian saying, "Willow is a carbon bomb that cannot be allowed to explode in the Arctic."

Jan 24, 2023 — Biden Drilling Tops Trump

The Center for Biological Diversity notes that a review of federal data shows that

"…the Biden administration approved 6,430 permits for oil and gas drilling on public lands in its first two years, outpacing the Trump administration's 6,172 drilling-permit approvals in its first two years."
2022

Dec 14, 2022 – Bending the Rules on Carbon Capture

Bloomberg reports on a quiet change at the Energy Department that could have major impacts. The administration's plan to spend $3.7 billion on direct air capture technologies was originally supposed to exclude projects that would produce more oil and gas. Using captured carbon to extract more oil from the ground is what is known as 'enhanced oil recovery.' But under pressure from lawmakers – including Democratic Senators Joe Manchin and Kyrsten Sinema,

Bloomberg notes that the decision is "a significant shift and one likely to be championed by the oil and gas industry because it promises more funding options for crude production." A Greenpeace campaigner puts it, "Giving oil producers access to a consistent and subsidized source of carbon dioxide that they can plow into the ground to keep oil oilfields alive is a recipe for disaster, and keeps us further away from the Biden administration's emissions goals."

December 6, 2022 — Promising Gas Across the Atlantic

The White House announces a new "U.K.-U.S. Energy Security and Affordability Partnership" with British Prime Minister Rishi Sunak, with a commitment to export at least 9-10 billion cubic meters of liquefied natural gas (LNG) over the next year. Like other similar commitments, the end result will increase fracking and other fossil fuel extraction in the United States, along with the construction of new, heavily polluting export terminals.

November 3, 2022 — Drilling Up From Trump

Despite the overheated rhetoric from Republican politicians and fossil fuel giants, a simple accounting reveals that the Biden administration has been more than willing to give drillers what they want. Politico reports that "Biden's regulators have approved new oil and gas wells at a far faster pace than the Trump administration did during its first 21 months in office — a fact that undermines Republican election-year arguments about the causes of this year's high gasoline prices."

The report adds: "From January 2021 to the end of September, Biden's Interior Department approved 74 percent more well permits for oil and natural gas production than the agency had done during the comparable period of Trump's term."

November 8, 2022 — Offsets Again?

The New York Times reports that White House climate envoy John Kerry is going back to the future with a new carbon offsets plan developed in partnership with several corporations. Critics are skeptical of the notion – which is no surprise, given that offsets plans have been shown to be disastrously ineffective for decades. The White House seems to think its new approach will yield a different result.

October 4, 2022 — As Prices Soar, Fossil Fuel Exports Will Continue

Amid growing calls to ban gas exports overseas in order to relieve households with soaring prices, Reuters reports that the White House will continue to grow the market for fossil fuel exports. A ban on exports – something that could be carried out by the Energy Department – " has not been seriously considered," the news service reports, relying on the accounts of two people directly involved in the administration's discussions.

October 1, 2022 — Army Corps Grants Offshore Oil Pipeline Permit

The Biden administration's Army Corps of Engineers issues a permit authorizing repairs to an offshore oil pipeline that ruptured a year ago, spilling tens of thousands of crude oil. Brady Bradshaw of the Center for Biological Diversity says that the White House "just ramped up the risk of yet another ugly oil spill on California's beautiful coast….We need to quickly phase out all dangerous, failing offshore oil infrastructure, not issue more permits that invite the next disaster."

July 13, 2022 — Wooing Manchin With Dirty Energy Promises

Under the headline "Biden Weighs Breaking Climate Pledges to Win Manchin's Support on Bill," the Washington Post reports that President Biden "might greenlight drilling plans in Alaska and the Gulf of Mexico" in order to secure Senator Joe Manchin's support for a legislative package being touted as a climate bill. The projects under consideration, the Post reports, would create hundreds of millions of tons of climate pollution.

July 1, 2022 — Disappointing Offshore Drilling Plan

The Interior Department issues its long-awaited draft plan to manage offshore oil and gas drilling over the next five years– supporting continued drilling in the Gulf of Mexico and the Cook Inlet of Alaska.

As Food & Water Watch Executive Director Wenonah Hauter said in response,

"The oil and gas giants are cynically exploiting runaway gas prices to press for more drilling. This would do absolutely nothing to address the high prices at the pump, which is a crisis of their own making that has delivered obscene profits to Wall Street investors and misery to working people. In an attempt to score short term political points, this plan sacrifices communities in the Gulf of Mexico and Alaska to years of toxic pollution and climate disasters.

June 21, 2022 — Granholm's CCS Institute Speech

Energy Secretary Jennifer Granholm speaks at the annual forum held by the Global CCS Institute, the industry trade group that pushes the failed solution known as 'carbon capture.' Granholm delivers exactly the message that the industry wants to hear, saying that "carbon capture and storage—and carbon management more broadly—is finally having the big moment we all believe it needs."

She adds that "President Biden considers developing, demonstrating, and deploying carbon capture and carbon removal technologies a high priority." and that his administration "has made good on his commitments to advance these technologies with the largest direct federal investment they've ever received." None of this rhetoric should distract from carbon capture's long record of failure or the simple fact that it only serves to entrench fossil fuel drilling.

Apr 27, 2022 — More Gas Exports Get the Green Light

The Energy Department announces that it has approved increased gas shipments from two LNG terminals that are under construction (Golden Pass in Texas and Magnolia LNG in Louisiana). Energy Secretary Jennifer Granholm is quoted saying that the approvals are about "making sure that we are able to allow those who intend to produce, have the freedom to be able to ship to Europe."

April 15, 2022 — Biden Betrays Public Lands Promise

The White House's Bureau of Land Management announces that it will resume oil and gas leasing on public lands, a clear violation of Biden's repeated promises to rein in new drilling and fracking on publicly owned land. Environmentalists, climate activists and frontline communities denounce the news.

March 23, 2022 — Pledging More Fracked Gas for Years to Come

White House national security adviser Jake Sullivan is quoted in the Washington Post reiterating that the White House wants to facilitate a fossil fuel surge:

"I think you can expect that the U.S. will look for ways to increase LNG supplies — surge LNG supplies to Europe — not just over the course of years, but over the course of months as well," Sullivan told reporters aboard Air Force One. "Of course, that amount will grow over time."

March 22, 2002 — More Drilling This Year

Energy Secretary Jennifer Granholm announces that there will be a "significant increase" in domestic oil and gas extraction by the end of the year. While this is treated as a positive development, it runs contrary to any and every effort to combat the climate crisis.

March 18, 2022 — Public Lands Drilling Leases Back on Schedule

Reuters notes that thanks to a court ruling on the "social cost of carbon," the White House is set to resume oil and gas fracking lease sales on public lands.

March 11, 2022 — Surging Gas to Europe

The Hill reports that the White House will "issue orders that expand the amount of liquified natural gas (LNG) that it exports as Europe seeks to reduce its reliance on Russian gas." The move comes just days after a Reuters report that suggested that some White House officials were opposed to the moves, pointing out that they "would counter the administration's efforts to wean the U.S. off fossil fuels consumption and production and tackle climate change." For now at least, those voices appear to be losing the argument over climate policy.

March 9, 2022 — The Numbers Don't Lie

New data from the Center for Western Priorities throws cold water on Republican and fossil fuel rhetoric about the White House standing in the way of dirty energy. As reported by Yahoo! News, the group's new data dashboard shows that "the federal government has been issuing oil and gas drilling permits more willingly than it did during President Donald Trump's first three years in office, and it could be issuing even more if the oil and gas industry weren't leaving many current leases undeveloped."

The report adds that the Biden administration's rate of approvals of drilling permits was 98 percent and 96 percent over two fiscal years, slightly higher than the final year of the Trump administration.

March 9, 2022 — "War Footing" = More Fracking

Politico reports on Energy Secretary Jennifer Granhom's blunt message to an oil industry conference "We are on war footing." In this context, that means encouraging more drilling and fracking: "That means you producing more right now if and when you can. I hope your investors are saying this to you as well. In this moment of crisis, we need more supply."

March 6, 2022 — John Kerry's Retro Climate Rhetoric

Speaking at an industry conference, White House Special Climate Envoy John Kerry touts the administration's "all of the above" approach to energy, adding that "Gas is going to be a key component of that transition. Not unabated gas. We've got to have abated." The notion that fracked gas is a 'bridge fuel' has been standard industry blather for over a decade, and the idea that carbon capture can transform gas into clean energy (so-called 'abated gas') defies reality.

February 18, 2022 — Setting (and Forgetting) a Key Climate Goal

One of the Biden administration's key climate goals was its pledge to cut greenhouse gas emissions in half by the year 2030. There is theoretically any number of ways to achieve that goal, and the White House had planned to reveal its approach in the National Climate Strategy. E&E News reports that the document was expected to have been released at last November's climate summit in Glasgow, but it has still yet to be finished. The article adds that "the White House has stopped talking about its 2030 road map…. It didn't respond to inquiries for this story."

February 15, 2022 — Disappointments at the Interior Department

The American Prospect publishes a detailed look at the disappointing performance of the Biden Interior Department, noting that "the few occasions the Interior Department has made news have come from its outstanding commitment to the status quo." The report points to Interior's awful record on oil and gas drilling leases and permit approvals, noting the tragic irony that almost 2,000 permits were issued in the home state of Interior Secretary Deb Haaland. The report adds that "the Biden White House remains chock-full of holdovers from previous Democratic administrations, ones, like Obama's and Clinton's, that prioritized playing nice with fossil fuel industries."

January 21, 2022 — Drill Biden Drill

The Center for Biological Diversity releases a new analysis of federal drilling data that "shows the Biden administration approved 3,557 permits for oil and gas drilling on public lands in its first year, far outpacing the Trump administration's first-year total of 2,658."

The group calls the performance "a spectacular failure of climate leadership."

January 19, 2022 — Fossil Fuels, Full Steam Ahead

During a hearing of the House Energy and Commerce Committee. Deputy Energy Secretary David Turk reiterated that the Biden administration was opposed to limiting dirty energy exports: "An export ban, either on the LNG side or on the oil side, is not something we're currently discussing and under consideration." Some Congress members have been urging the White House to consider such moves, either as a means of lowering prices or as part of a comprehensive strategy to reduce climate pollution.

January 19, 2022 — A Broken Promise on Climate Lawsuits

On the campaign trail, Joe Biden promised his administration would "strategically support" climate lawsuits. But as E&E News reports,

"…as Biden marks one year in office tomorrow, Attorney General Merrick Garland has not — as of yet — waded into the legal battle, despite repeated entreaties from Senate Democrats and the chief lawyers in a half-dozen blue states that are pursuing claims against the oil and gas industry."

January 10, 2022 — Backing Trump's Coal Policies

The Hill reports that the Biden administration filed court documents backing the Trump administration on a key coal policy. In 2018, a federal court found that Trump's Bureau of Land Management (BLM) failed to consider alternatives to coal in the The Powder River Basin, an area in Montana and Wyoming that accounts for a substantial amount of the country's coal production. In the new filing, the Biden administration essentially endorses the Trump administration's actions. Groups calling for a new environmental analysis denounced the White House's action, saying it "is doubling down on Trump-era policies that prop up a dying coal industry at the expense of American taxpayers."

January 10, 2022 — Stopping (Some) Alaska Drilling

The Bden administration filed documents in court that reveal it is blocking a Trump plan that would have increased the land available for fossil fuel development in Alaska's National Petroleum Reserve. While this is good news, E&E News notes that the White House "is moving forward with a plan that would still allow drilling in about half of its 23-million-acre area." As Center for Biological Diversity senior attorney Kristen Monsell put it, "This is better than the Trump-era plan it replaces but far short of what's needed to address the climate emergency."

January 4, 2022 — More Public Lands Drilling

It's a New year, but the same old policies are still in place, as the Bismarck Tribune reports:

The federal Bureau of Land Management is planning a lease sale for the first quarter of 2022 with 6,850 federally owned mineral acres up for grabs in western North Dakota and eastern Montana.
2021

President Biden's executive order calling on the federal government to reach the goal of 100 percent carbon-free electricity by 2030 was celebrated as a major step in the right direction. But there is one massive exception. As E & E News reports,

the executive order exempts anything related to national security, combat, intelligence or military training.

That means Biden's order covers only a fraction of federal emissions. While military leaders insist they share the president's decarbonization goal, there is no plan for them to meet it.

This is no mere footnote to the broader goals; some studies find that the military accounts for over 70 percent of the government's total energy use.

While Congress continues to struggle with passage of the Build Back Better Act, E&E News reports on new research showing that the new bipartisan infrastructure law could actually increase emissions. While the White House touts its carbon reduction possibilities, the problem is how much of the infrastructure funding would go towards building roads and highways. A study from the Georgetown Law Center finds that such scenarios could increase emissions by 1.6 percent in a decade.

E&E News reports that the White House is reiterating its support for a 88-mile rail line to carry crude oil and sand for fracking, part of which would pass through a national forest in Utah. The message came via a letter from the Forest Service to the Center for Biological Diversity, which alludes to the administration's desire to "rebuild our infrastructure for a sustainable economy."

As the Center for Biological Diversity had argued previously, trains operating on the new rail line could carry as much as 350,000 barrels of crude oil every day. The group also noted: "Conservative estimates of carbon pollution from this expansion of fossil fuel extraction equal to up to 53 million tons of CO2, 6 times more than the annual emissions of the dirtiest coal plant in Utah."

Speaking to the National Petroleum Council, Energy Secretary Jennifer Granholm assured the oil industry that the administration would not reinstate a ban on crude oil exports, as some lawmakers and climate advocates had been pushing.

"I do not want to fight with any of you… I do think it's much more productive to work together on future-facing solutions," she told the assembled executives. Granholm added that the administration would like to see companies increase their drilling: "I hope you will hear me say that please, take advantage of the leases that you have, hire workers, get your rig count up."

The Washington Post reports on a new Public Citizen study of the Biden administration's record on oil and gas leasing, which found that the White House

"has approved more oil and gas drilling permits on public lands per month than the Trump administration did during the first three years of Donald Trump's presidency."

As the Post notes, the new analysis found that the Bureau of Land Management has "approved an average of 333 drilling permits per month. That figure is more than 35% higher than Trump's first year in office, when BLM approved an average of 245 drilling permits per month."

Speaking at a Reuters conference, White House climate envoy John Kerry delivered a strikingly sanguine assessment of the battle against the climate crisis: "There's a great deal of money chasing good projects and good deals. I believe the private sector has the ability to win this battle for us."

He added: "This is doable. It doesn't have to be frightening."

What's frightening is believing that corporate polluters can become climate champions.

The day after Thanksgiving, the White House quietly released a long-delayed report on public lands oil and gas drilling. During the campaign, President Biden was clear about wanting to ban fracking on public lands. This report, however, merely recommends that polluters pay slightly more to drill wells.

As Food & Water Watch Policy Director Mitch Jones put it, the report is "a shameful attempt to hide the fact that President Biden has no intention of fulfilling his promise to stop oil and gas drilling on our public lands…This shocking capitulation to the needs of corporate polluters is a clear sign that, when it comes to climate action, the White House does not actually mean what it says."

In a piece detailing the Biden administration's public lands drilling policies, reporter Adam Federman describes another disappointment that has not received as much attention. He writes that the Interior Department's Bureau of Land Management "has renewed the leases of 18 coal mines this year, allowing operations to continue for at least another decade, while granting 13 requests to reduce the royalty fees that coal mines pay the federal government to operate on public lands, which environmentalists view as an unnecessary subsidy helping to keep the industry afloat."

The Huffington Post notes that just days after the COP26 climate summit closed, the Biden administration is shifting its focus as it "prepares to hold the largest offshore oil and gas lease sale in U.S. history on Nov. 17."

The report adds this context:

The Department of the Interior will offer up more than 80 million acres — an area larger than the state of New Mexico — of the Gulf of Mexico for drilling. It is bigger than any lease sale conducted under President Donald Trump's fossil-fuel-friendly administration, and Interior estimates it will lead to the production of an additional 1.1 billion barrels of oil and 4.4 trillion cubic feet of natural gas over several decades.

While the White House claims its hands are tied by a court ruling, many legal experts argue that there are several avenues the administration could take in order to stop this drilling scheme.

At the COP summit, Energy Secretary Jennifer Granholm was asked if the Biden administration would take any actions to stop the massive oil and gas export facilities on the Gulf Coast. Granholm's response was puzzling: "That's not my lane, stopping oil and gas exports."

But as Kate Aronoff points out in the New Republic, "under the Natural Gas Act, the Department of Energy has the exclusive authority to approve whether companies can import and export gas." While oil exports are not covered by the Department of Energy, they are still very much within the administration's purview. President Biden could reinstate the crude oil export ban that was repealed in 2015 by President Obama—a move that led to massive growth in the export of oil around the world. There is plenty the Biden White House could do, if it wished to make policies that matched the administration's climate rhetoric.

Energy Secretary Jennifer Granholm's main message at the COP climate summit was to tout the administration's support for carbon removal schemes that do not exist:

"By slashing the costs and accelerating the deployment of carbon dioxide removal, a crucial clean energy technology, we can take massive amounts of carbon pollution directly from the air and combat the climate crisis."

Granholm told the conference that she is "really excited" about the bipartisan infrastructure plan that spends billions of dollars on direct air capture, in addition to the billions that will be spent on carbon capture projects. Make no mistake — these are subsidies to fossil fuel polluters, intended to extend the life of dirty energy under the guise of climate action.

The New Republic's Kate Aronoff reports on the ways that Biden officials attending the COP26 summit have spoken favorably about working with private interests. John Kerry, for one, spoke about the need to create clean energy policies that would "blend the finance, de-risk the investment, and … create the capacity to have bankable deals."

At one event, White House climate advisor Gina McCarthy enthused: "I'm so excited that the private sector is here with such vibrance. There's no question any more that this is a catastrophe and we have to fix it. The question is, how do we do it in a way that captures the economic value associated with that?"

She added that we must "turn this challenge into a creative opportunity. And all that will make money. And God bless America." That's the kind of talk you'd expect from an oil company CEO.

Dozens of countries used the COP summit to announce an agreement to phase out coal, leading summit organizers to declare that "the end of coal is in sight." The Biden administration did not join the pledge. The New York Times reports that government officials decided not to join the pledge because doing so would anger West Virginia Senator Joe Manchin, who is heavily invested in the industry.

Bloomberg reports that the White House's Build Back Better infrastructure proposal could deliver "billions of dollars in extra tax breaks" for coal plants, thanks to an increase in the tax credits awarded for so-called carbon capture schemes. An analysis from the Sierra Club finds that a single 1,000 megawatt plan could receive $6 billion over 12 years, an extraordinarily generous lifeline to dirty energy operators.

The language of the credit would allow coal plants to qualify for the credit so long as they planned capture operations to be under construction by the year 2032. In some cases, coal plants have already used existing the credits program to delay closure, as operators weigh the benefits of actually installing capture technology (which, it should be said again, does not actually work). Lukas Ross of Friends of the Earth calls these provisions a "total disaster" and "an astoundingly regressive approach to climate policy."

The Associated Press reports:

"The Biden administration is planning to sell oil and gas leases on huge tracts of public land in the U.S. West, despite the Interior Department's conclusion that doing so could cost society billions of dollars in climate change impacts, according to government documents."

The administration's decision affects leases across a number of states in the West. The AP also notes that "similar determinations that U.S. fossil fuel lease sales should not be restricted over global warming concerns were made under former Presidents Donald Trump and Barack Obama."

As White House officials prepare for the international climate summit in Glasgow, the New York Times reports on the irony of President Biden sounding the alarm about the climate crisis while simultaneously "urging the world's largest oil producers to pump more of the fossil fuels that are warming the planet."

Biden tries to explain away the issue by saying that "everyone knows that the idea we're going to be able to move to renewable energy overnight is just not rational." Of course, no one is suggesting an overnight clean energy miracle; the issue is that any actions that prolong the fossil fuel era are fundamentally at odds with our climate goals.

The Center for Biological Diversity issues a press release warning that the Biden administration is set to approve a right-of-way-through the Ashley National Forest in Utah, a project that would aid construction of a railway crucial to the expansion of the crude oil industry.

The group reports that the railway would increase oil production to 350,000 barrels a day and would create 53 million tons of carbon dioxide pollution, "equivalent to the emissions from six of Utah's dirtiest coal plants." The Forest Service's support for the project "undermines President Biden days before the administration heads to Glasgow to demonstrate U.S. leadership on the climate emergency," said Deeda Seed, senior public lands campaigner at the Center for Biological Diversity. The release also notes: "The Forest Service has not responded to a letter and meeting request from 30 environmental and conservation groups to discuss the environmental harm that will be inflicted by the proposed railway."

Brad Crabtree, Biden's nominee to lead the Energy Department's Office of Fossil Energy and Carbon Management, appears before a Senate committee considering his confirmation.

As reported by Politico, Crabtree tells lawmakers that the record of carbon capture technologies has been "quite positive." He adds that it is "long proven and widely commercially deployed across the world," and should in fact receive even more government subsidies.

The record on carbon capture is actually a string of false promises, wasted money and massive failures. Crabtree's views are no surprise; after all, right before the White House announced his nomination he was the director of the Carbon Capture Coalition. It is a distressing sign that the White House is adopting the energy industry's deceptive carbon capture campaign as its own.

At his Senate confirmation hearing to become a new commissioner at the Federal Energy Regulatory Commission (FERC), Willie Phillips tells Senator Joe Manchin:

"I believe in an all-of-the-above strategy with regard to the work of the Commission. I know that FERC is an economic regulator, they do not pick winners and losers."

In energy circles, "all of the above" is an outdated concept that rejects a break with fossil fuels in favor of allowing various destructive practices to continue to flourish. It was the kind of rhetoric that accompanied the fracking boom under the Obama administration. We don't need more of these failures.

As behind-the-scenes negotiations over the White House's Build Back Better Act continue, Democratic holdout Senator Joe Manchin tells reporters that he is not willing to consider a carbon tax. Nonetheless, Reuters reports that the administration is still hanging onto it

The White House on Tuesday said it has not ruled out a carbon tax as a possible option for fighting climate change, even though U.S. Senator Joe Manchin, a critical holdout in the closely divided Senate, said he was not discussing the topic in talks about U.S. spending and infrastructure bills.

"I'm not taking any options on or off the table," White House spokesperson Jen Psaki told a briefing when asked about a carbon tax.

A carbon tax should not be seen as a reasonable compromise here — it would represent a total capitulation to the fossil fuel industry, which by and large supports taxes over more meaningful action.

Politico reports that the White House is working with Democratic lawmakers to water down climate provisions in the Build Back Better Act in order to woo West Virginia Senator Joe Manchin: "The changes under consideration could make it easier for coal and natural gas power plants to receive billions of dollars in financial incentives for clean energy."

Of course, these moves are deemed necessary to win approval of the entire spending package. But can it still be called a climate plan if it props up climate-destroying fossil fuels?

Asked about the People vs Fossil Fuels climate mobilization outside the White House, Press Secretary Jen Psaki responds by saying,

"I would encourage anyone out there, or not, to look at what the President is proposing, what he's trying to push across the finish line at this point, which is an enormous investment and commitment to addressing the climate crisis. That's in his legislative agenda that's currently working its way through Congress now. It doesn't mean his climate commitment ends once he signs this into law; it just means that's what our focus is on now, and it will have a dramatic, important impact."

Of course, the issue for the People vs Fossil Fuels mobilization was to urge President Biden to take the necessary steps that do not require Congressional approval — including ending drilling on public lands, stopping new fossil fuel infrastructure projects and declaring a climate emergency. It's not that the movement is not paying close attention to what Biden is 'proposing.' We want much more.

Responding to a question about energy supply problems creating price spikes around the world, Press Secretary Jen Psaki reiterated that fossil fuels are the answer to the problem with fossil fuels:

"There's a natural gas shortage around the world, hence the need for the United States to continue to export natural gas."

The spike in gas prices stems from a variety of factors, including the slow recovery from a deadly global pandemic. Whatever the cause, the answer to dramatic increases in fossil fuel prices is not to deepen our reliance on fossil fuels.

Two environmental lawyers write in The Conversation that the Biden administration is squandering a "once-in-a-lifetime opportunity to help Puerto Rico transition to a greener and more resilient energy future." Despite new laws that call for a shift away from fossil fuels, which provide that vast majority of power on the island, Biden's Federal Emergency Management Agency (FEMA) is allowing Hurricane Maria relief money to "underwrite a rebuild of the old fossil fuel system."

The authors, Patrick Parenteau and Rachel Stevens, write that they are "surprised to see FEMA move forward on a path that runs directly counter to the White House's energy and climate policy." They note that FEMA failed to conduct an adequate environmental review, and did not engage in meaningful dialogue with impacted communities — a move that "directly contradicts Biden's order to place environmental justice at the center of federal energy and climate policy."

The Hill reports that the administration has formally announced the date of oil and gas drilling lease sale in the Gulf of Mexico, which will "comprise about 15,135 blocks in a range of 3 to 231 miles offshore and depths ranging from 9 to more than 11,000 feet."

The move led Center for Western Priorities Deputy Director Aaron Weiss to say, "President Biden is doing Donald Trump's bidding today. This lease sale will be devastating for the Earth's climate, and set America back years on our path to a climate solution."

Mother Jones reports that Agriculture Secretary Tom Vilsack has continued the Trump administration's opposition to a European Union agriculture program to reduce carbon emissions from food production.

Vilsack is quoted (from an appearance at a Big Ag industry conference) saying that "a market-oriented, incentive-based, voluntary system is effective" for reducing greenhouse gas emissions, as opposed to the more stringent requirements being pushed by the EU.

University of Iowa researcher Silvia Secchi has this to say about the administration's plan to ally with Brazil on these issues: "It's appalling that for all its purported concern about climate change, this administration has aligned with a government that has wrecked policies put in place to reduce deforestation in the Amazon."

The Financial Times reports that gas shortages and price spikes in Europe are good news for the fossil fuel industry, since it is likely to boost political support for the construction of LNG export terminals in the United States. One of the key decision makers is Amos Hochstein, the State Department's Special Envoy and Coordinator for International Energy Affairs. He is quoted in the Times as being supportive of the need to build new gas facilities (while also speaking of the need to transition away from fossil fuels).

Hochstein, for the record, worked for the Obama administration boosting fossil fuel development, and then took a lucrative marketing job at the fossil fuel company Tellurian, a key player in the fracking exports business. Hochstein also reported income from a consulting gig with an Emirati gas company.

In comments to reporters, Interior Secretary Deb Haaland speaks about the importance of "balance" when it comes to fossil fuel drilling on public lands. The Hill quotes Haaland saying that taxpayers "haven't necessarily been getting a fair return on their investment in these public lands." The implication, once again, is that the Biden administration is moving away from their calls for an end to fracking on public lands, and will instead support policies to change what companies are charged to drill on such lands.

As The Hill also reports:

"Asked Thursday if her call for balance implied that oil and gas would still be part of the equation, Haaland reiterated past comments that oil and gas will 'continue for years to come.'"

The Biden administration announces a methane pledge with the European Union that aims to achieve at least 30 percent reductions by 2030 (compared with 2020 levels). These proposed cuts fall short of what many experts believe are possible in the short term. As Food & Water Watch Executive Director Wenonah Hauter said,

"We know that more aggressive cuts in methane are well within reach over the next decade, and are necessary in order to deal with the climate crisis. There are also serious concerns about how to gauge progress, since agencies like the Environmental Protection Agency have continually underestimated methane emissions."

The Washington Post reports on the 'lobbying frenzy' around the climate provisions of the Senate reconciliation proposal, and notes that top Biden officials

"have been working behind the scenes to broker deals between key industries and congressional leaders. Last week, White House national climate adviser Gina McCarthy and her deputy Ali Zaidi traveled to Colorado Springs to meet with scores of top utility executives at their trade group's board meeting."

The report added that the pair "spoke to about 100 people" at the industry meeting, and had many "one-on-one conversations, where they took notes about what the administration could do to cement the utilities' support."

The White House announces that it will nominate Willie L. Phillips to fill the vacancy at the Federal Energy Regulatory Commission (FERC), an agency that wields enormous power over approving new fossil fuel infrastructure projects. Phillips, who currently serves as chairman of the Public Service Commission of the District of Columbia, has worked for electric utility giants and the oil and gas industry.

Climate and community groups actively campaigning for a climate champion at the agency were disappointed. As Food & Water Watch's Mitch Jones says, "Unfortunately, nothing in Phillips' career thus far has shown that he will be that champion; in fact, quite the opposite."

The Energy Department announces the nomination of Brad Crabtree as Assistant Secretary for Fossil Energy and Carbon Management. Energy Secretary Jennifer Granholm calls Crabtree "one of the nation's top practitioners on carbon capture and storage and carbon utilization," and the department's press release touts his role as Vice President for Carbon Management at the Great Plains Institute (GPI), where he "helped launch the State Carbon Capture Work Group, a 16-state initiative… to foster commercial deployment of carbon capture and CO2 transport infrastructure."

Carbon capture has quickly become one of the industry's most popular talking points, as dirty energy corporations look for ways to fool the public into thinking they care about the climate crisis. The White House appears determined to help them.

The Interior Department announces a massive sale of leases in the Gulf of Mexico. According to Reuters, the 90 million acres could yield "up to 1.1 billion barrels of crude oil and 4.4 trillion cubic feet of natural gas." To add insult to injury, the administration's announcement found that the climate threat of this new drilling "does not present sufficient cause" to revise the Trump administration's environmental analysis of the offshore drilling leases.

Earthjustice files suit against the plan, arguing that the plan violates federal law by failing to account for the greenhouse gas emissions associated with all of this new drilling. As the Center for Biological Diversity points out,"The environmental analysis of the proposed sale relies on improper modeling to conclude that not having the lease sale will result in more greenhouse gases."

In an interview with the Houston Chronicle, Energy Secretary Jennifer Granholm is asked if the administration's clean energy standard would allow for "high-efficiency natural gas plants without carbon capture systems — something oil lobbyists are pushing for — in that program."

"You can incentivize utilities to do natural gas with carbon capture. That would be clean. But for no carbon capture and allowing methane to be flared, that would not be incentivized."

In reality, neither option is 'clean.' Gas-fired power plants equipped with carbon capture — which do not exist, despite heavy subsidies and years of research — would still require new fracking wells and new pipelines, which will all result in new methane emissions. And capture technologies do not address any other air pollution linked to power plants.

Reuters take note of the Biden administration announcement that it

"would take steps to restart the federal oil and gas leasing program in the next week and plans to hold a Gulf of Mexico auction as soon as October."

E&E News reports that the Biden administration has once again slashed royalty rates for a coal company. This time around the break went to the Deseret Power Electric Cooperative company, to help with production at one of its Colorado mines. While underground mines typically pay an 8 percent royalty rate, Biden's Bureau of Land Management agreed to a 2 percent rate. Jeremy Nichols of WildEarth Guardians tells E & E that the move "highlights the economic lunacy of the federal coal program and the shameful willingness of the Bureau of Land Management to bend over backward to give the coal industry handouts."

The Biden administration announces that it will undertake a review of the federal policies that govern the leasing of public lands for coal extraction, similar to the review of the oil and gas leasing program they launched shortly after taking office. But as the Washington Post reports, the administration will not put the coal program on hold in the meantime:

"While previous reviews of the federal coal program under Presidents Barack Obama, Ronald Reagan and Richard M. Nixon resulted in pauses on leasing, the Biden administration will continue to hold coal auctions and issue permits."

White House climate advisor Gina McCarthy is asked about the role of fracked gas in the administration's energy plan, and she gives this response:

"The president's plan is an all-of-the-above' strategy and we are looking at every opportunity, of course, to get renewable energy into the marketplace as fast as we can but we are not picking and choosing winners. We are investing in every winner we can find."

When it comes to climate action, leadership requires making choices. Fracked gas is a loser.

Jeff St. John digs into the details of the Senate infrastructure plan for Canary Media and finds some alarming cuts to clean energy funding. While the White House had initially touted $73 billion for grid upgrades and transmission, a subsequent fact sheet pegged that funding at $65 billion to "facilitate the expansion of renewable energy." But that total is misleading, since it includes billions for nuclear power, carbon capture and hydrogen. The actual funding for new transmission is closer to $2.5 billion — a small fraction of what will be necessary to achieve the administration's stated clean energy goals.

The White House announces that it will use its power at the World Bank and other multilateral development banks to vote down financing plans for fossil fuel projects. Treasury Secretary Janet Yellin says these are "bold, proactive steps to address the climate crisis," but the policy includes numerous exceptions. Carbon capture projects could still be financed, and The Hill reports that "the guidance said that the administration will oppose financing production, but may support its transportation and distribution." These details led Friends of the Earth International Policy Campaigner Luisa Galvao to say, "The Treasury guidance leaves loopholes for continued fossil fuel financing that are so big, you can drive an LNG ship through them."

The White House announced that it will appeal a federal judge's decision to block the administration's pause on new oil and gas leases on public lands. But in the meantime, the Interior Department will issue new leases as the legal case unfolds. Politico sums up the shift with the headline "Unpausing the Pause." In a statement, House Natural Resources Chair Raúl Grijalva says, "Holding more lease sales under today's outdated standards is economically wasteful and environmentally destructive, and everyone not sitting in a fossil fuel boardroom knows it."

Max Moran writes in the American Prospect about President Biden's decision to appoint Amos Hochstein as the State Department's senior adviser for energy security. As Moran writes, this could be a re-run of Hochstein's role in the Obama administration:

"Back then, his title was 'Special Envoy for International Energy Affairs,' but his actual job was essentially to be the point man for securing American access to foreign oil fields. Hochstein's devotion to planet-killing fuels hasn't wavered in the years since: He spent all four of the Trump years as a marketing executive for Tellurian, a fossil gas company."

The Guardian reports on new research, co-authored by Food & Water Watch board member and Cornell professor Robert Howarth, which shows that the Biden-backed plan to promote so-called 'blue hydrogen' will produce climate pollution on par with burning coal. The production of blue hydrogen relies on splitting gas into hydrogen and carbon dioxide, with the goal of capturing that CO2. But this process releases substantial methane, and will require an enormous amount of energy. As Howarth puts it, "Blue hydrogen is a nice marketing term that the oil and gas industry is keen to push but it's far from carbon free." The Biden-backed infrastructure plan would devote $8 billion to supporting this fossil fuel-friendly technology.

White House Press Secretary Jen Psaki is asked this question:

"How does this White House square a push for OPEC — or Saudi Arabia — to increase production of oil, which is a fossil fuel, with your climate change agenda, which is basically to get away from fossil fuels?"

Her response is puzzling:

"Well, first I'd say that experts have consistently debunked the notion that efforts we're undertaking to transition to net zero by 2050 and a clean power sector by 2035 are related to domestic production at home. I would just note. I know that wasn't exactly your question, but I wanted to get that in there."

Whatever the intent, It's nonetheless revealing that the White House seems to be saying that domestic production of fossil fuels can continue no matter what. 'Net zero' goals mean very little if the administration does not plan to rein in the production of dirty energy.

Just 2 days after the release of a IPCC climate report that urges an immediate shift away from fossil fuels, the White House announced that it is calling on OPEC+ nations to increase oil production.

E & E Daily reports that the Biden administration remains steadfast boosters of carbon capture. Speaking at an industry roundtable event, Energy Secretary Jennifer Granholm reiterates that the White House-backed infrastructure plan could "kick carbon capture development and deployment into high gear." She adds that the White House is looking to "turbocharge" carbon capture and "press hard on the accelerator." Secretary Granholm touts carbon capture as a way to involve the "fossil energy communities that have powered this nation for over a century," and went on to say, "Once we can get these technologies out of the lab and into the real world, it will be a game-changer for the climate."

The problem is that carbon capture has been in the 'real world' for a long time — and the dismal results speak for themselves. Carbon capture isn't a 'game changer' at all, and any climate policy that relies heavily on its success should be considered game over.

The Intercept reports that the White House-backed Senate infrastructure plan "would make fossil fuel companies eligible for at least $25 billion in new subsidies, according to an analysis by the Center for International Environmental Law." That total does not include the existing $15 billion in fossil fuel subsidies, and would serve to lay the groundwork for a major expansion of polluting petrochemical facilities.

E&E News/Politico reports that the White House is doing favors for a major coal operator:

"The Biden administration this spring cut the royalty fees a mining company is required to pay on coal dug up at two major operations on public land in the West, an Interior Department database shows."

The requests came last year for two of the company's mines. The report suggests the Biden administration slashed the royalty rate to 2% at the Coal Creek mine in Wyoming. Arch did not comment on the decision, but the company's latest earnings report showed them posting a net income of $30 million in the second quarter.

Another coal company — Peabody — is awaiting word on its own application for royalty relief from the Biden administration.

In an E & E News piece about how Biden's EPA still does not have a clear policy on regulating power plant emissions, climate adviser Gina McCarthy applauds the utility industry's various 'net zero' plans and voluntary emissions reduction goals (which critics have derided for being weak).

"They're doing it because they're good capitalists … They know where the money is. They know where the future is."

Climate envoy John Kerry gives a speech in London where he endorses the argument that we do not need to build any new fossil fuel infrastructure — which is a welcome message indeed. But he also endorsed some much less worthwhile ideas:

"We'll also need to develop the equivalent of installing the largest carbon capture storage facility currently in operation, but we have to do that every 9 days through 2030."

Given that such facilities basically do not exist, we shouldn't be building a new one every week or so. This kind of carbon capture rhetoric exists to lengthen the life of fossil fuel corporations, instead of ending the dirty energy era.

DeSmog publishes a lengthy investigation into Obama Energy Secretary Ernest Moniz's blueprint to build a massive new network of carbon dioxide pipelines, a plan that is being promoted within the Biden administration, with Deputy Energy Secretary Dave Turk appearing at the launch event to offer supportive commentary.

As DeSmog notes, building a vast array of new pipelines and storage facilities will be a boon to fossil fuel polluters "by enabling aging coal-fired power plants to remain in service longer, produce pipes that could wind up carrying fossil fuels if carbon capture efforts fall through, and represent an expensive waste of federal funds intended to encourage a meaningful energy transition."

Nonetheless, the report impressed Turk who said the report "is incredibly helpful to show that we need to do more from the DOE side, other agencies, and Congress." Turk added that the administration was pushing for billions of dollars to fund carbon capture: So we've got some tools on the table right now at the Department of Energy but we're really hoping and it's encouraging to see the bipartisan support for CCUS up on the Hill."

The Associated Press reports that "approvals for companies to drill for oil and gas on U.S. public lands are on pace this year to reach their highest level since George W. Bush was president." The Interior Department approved about 2,500 permits to drill on public and tribal lands in the first six months of the year — more than 2,100 drilling approvals since Biden took office on Jan. 20.

According to a report from Bloomberg Government, a draft of a long-awaited White House report on fracking on public lands "falls short of the outright ban," promised during the campaign, and will only recommend changes to the royalty rates paid by drillers and other minor tweaks. Increasing royalty rates for drilling only entrenches our dependence on fossil fuels.

White House national climate advisor Gina McCarthy released a memo that was intended to demonstrate the Biden administration's commitment to its climate and clean energy goals. But the memo actually does the opposite. Instead of explicitly supporting a bonafide standard for clean, renewable energy, the memo touts the leveraging of 'market signals' and other technocratic rhetoric that is decades out of date.

The White House Council on Environmental Quality submits a report to Congress laying out the ways it could support the fossil fuel industry's carbon capture plans. The report envisions an array of options, including efforts to streamline permitting for carbon storage facilities and new pipelines.

In an interview with Bloomberg TV, Energy Secretary Jennifer Granholm boasts that the White House support for "significant" carbon capture research funding is good news:

"These kinds of technologies will help for the oil and gas sector to be able to ramp up production, but in a way that's clean."

This is welcome news for the fossil fuel industry — which loves to tout carbon capture as a climate solution, even though there's basically no such thing. Granholm is correct that this could easily ramp up oil and gas drilling — which is the opposite of what we should be doing right now.

A growing, powerful grassroots movement is demanding that President Biden stop the Line 3 tar sands oil pipeline under construction in Minnesota. The White House responds by filing a brief backing the Trump administration's approval of the project. The Justice Department, as Gizmodo reported, "asked the court to reject any more arguments from environmental and Indigenous groups and allow the pipeline to move forward."

The case, brought by Earthjustice on behalf of the White Earth Band of Ojibwe and the Red Lake Band of Chippewa, seeks to challenge a US Army Corps of Engineers water permit. As Tara Houska of Giniw Collective put it, "This is a horrific failure of the government's duty to tribal nations, to climate science, to the sacred."

At a House committee hearing, Interior Secretary Deb Haaland told lawmakers:

"I don't think there is a plan right now for a permanent ban" on oil and gas drilling on public lands. Those comments directly contradict Biden's repeated promises to ban fracking on public lands."

Haaland added that "gas and oil production will continue well into the future."

Speaking about the White House's vision for a clean energy standard, Energy Secretary Jennifer Granholm said that fracked gas would qualify if paired with some form of carbon capture:

"I think that if you combined natural gas with carbon removal so that it was really clean and that you had zero carbon emissions."

There is no such technology to remove emissions from gas power plants. And even if it did exist, that would still leave all of the other associated problems with fracking — methane leakage, water contamination and pollution at the well sites — as well as the other air pollutants created by gas-fired power plants.

The Energy Department announced $12 million to fund 'direct air capture' projects, which it touted as a chance to remove 100,000 tons of carbon dioxide from the atmosphere. DAC is a highly expensive and mostly theoretical enterprise, but to put this in perspective, the largest corporate polluter in 2018 was responsible for 119 million tons of CO2 equivalent.

Reporting from a G7 summit focused on climate action, Politico reports that the Biden administration helped to block more forceful action on phasing out coal:

"The Biden administration — fixated on cultivating the Democrats' razor-thin Senate majority and the coal mining sympathies of West Virginia Senator Joe Manchin — was wary of any language specifically clamping down on coal."

Gizmodo reports that the administration is nominating Neil MacBride for Treasury general counsel — who recently sued the Treasury Department on behalf of Exxon.

As they note:

Nominating someone for that role who has fought against fines and regulations on behalf of major companies—including not only Exxon but also automotive corporations, pharmaceutical companies, and the rating agencies and banks behind the 2008 subprime mortgage crisis—doesn't bode well.

The Washington Examiner reports that Andrew Light — Biden's nominee to be the deputy assistant secretary for international affairs at the Energy Department — wants to see more fracked gas exports:

"My job in this role is to make sure U.S. gas is competitive around the world…Russia has the dirtiest source of gas right now. We've got to make sure ours is cleaner and that ours fill those markets around the world. That's what I intend to do."

He added that he seeks to make the United States the leaders in "abated natural gas technology around the world." Fracking without the pollution — what a concept. Too bad it's fiction.

Speaking at a nuclear industry conference, Energy Secretary Jennifer Granholm calls nuclear power "an absolutely critical part of our decarbonization equation" and touts the administration's nearly $2 billion nuclear power budget request. "The administration is ready to walk the walk," she added.

"Advanced nuclear holds so much potential," she said, adding that she envisions small nuclear reactors working with renewables and carbon capture as part of a zero-carbon grid of the future.

While national media cover a series of intense grassroots actions demanding that the White House stop the Line 3 tar sands oil pipeline in Minnesota, the administration studiously refuses to comment. Meanwhile, Bloomberg reports that a group of oil executives was having a private meeting at the White House with climate advisor Gina McCarthy.

Branko Marcetic reports for Jacobin:

According to statistics from the Bureau of Land Management, from the start of February to the end of April, the administration approved 1,179 drilling permits on federal lands, not far from the four-year high of nearly 1,400 approved over a similar three-month period at the end of Trump's term.

Energy Secretary Jennifer Granholm visited a hydrogen facility in Texas to promote fossil fuels:

"We want to be able to promote and sell clean technologies… That could be natural gas that has been decarbonized, or that could be natural gas where the methane flaring has been eliminated."

This rhetoric is basically indistinguishable from industry PR.

The New York Times reports:

The Biden administration is defending a huge Trump-era oil and gas project in the North Slope of Alaska designed to produce more than 100,000 barrels of oil a day for the next 30 years, despite President Biden's pledge to pivot the country away from fossil fuels.

E&E News reports:

The Biden administration yesterday advanced a proposal for oil and gas exploration on the back steps of the Dinosaur National Monument, sparking criticism from Utah public land advocates.

The permits were approved two years ago, but thanks to pressure from environmental groups the Trump administration remanded them for additional environmental analysis.

According to E&E News, the Interior Department has "issued dozens of oil leases sold in the final weeks of the Trump administration — and could issue over 200 more — drawing the ire of an environmental group that argues the move is a violation of the Biden administration's leasing freeze."

Jeremy Nichols of the group WildEarth Guardians told the outlet that a lawsuit is "definitely on the table."

Under the headline "Biden's Drilling Moratorium Is Not A Moratorium," the Daily Poster reports:

"the Interior Department's Bureau of Land Management has already broken Biden's campaign promise by approving more than five hundred new drilling permits for previously existing leases since Biden took office."

Energy Secretary Jennifer Granholm was a surprise guest at an oil industry conference, where she reassured the audience:

"We want to be a partner. And first, let me be clear, in our position as a global supplier of crude oil and natural gas and other forms of energy, that traditional fossil energy is going to remain important, even as we work to reduce carbon emissions."

The Forest Service and the Bureau of Land Management are appealing a court ruling that found the government failed to adequately assess the environmental impacts of issuing new fracking leases in Wayne National Forest in Ohio. Taylor McKinnon of the Center for Biological Diversity told Reuters:

"There's a wide and dangerous chasm between the Biden administration's climate rhetoric and its defense of unlawful fracking."

In a court filing, Biden's Army Corps of Engineers re-affirms its opposition to shutting down the controversial oil pipeline while a court-ordered environmental review is underway. In response, Earthjustice attorney Jan Hasselman said, "It's baffling that when it comes to the Dakota Access Pipeline, Biden's Army Corps is standing in the way of justice for Standing Rock by opposing a court order to shut down this infrastructure while environmental and safety consequences are fully evaluated."

Climate envoy John Kerry tells a finance group:

"No government is going to solve this problem…The solutions are going to come from the private sector."

He added: "What the government needs to do is create a framework within which the private sector can do what it does best, which is allocate capital and innovate."

Kerry was also quoted as saying, "I think we're on the cusp of a massive transformation… And ultimately, the market is going to make the decisions, not the government."

Of course, decisions made by the market are what created the problem in the first place.

Reports surface that White House climate adviser Gina McCarthy met privately with oil industry representatives to discuss "shared priorities." The White House declined to provide a list of the attendees, but did explain that McCarthy "made clear that the Administration is not fighting the oil and gas sector," and asked the oil industry representatives to present "ideas for addressing the climate crisis and reducing emissions."

Despite his vow to rein in fracking on public lands, Argus Media reports that the Biden Interior Department "has approved 200 drilling permits over the past two weeks… The surge in activity brings the number of approved drilling permits to 229 since Biden took office."

Energy Secretary Jennifer Granholm touts the potential of carbon capture — a false solution that only perpetuates dirty energy and fossil fuel profits:

"The Intergovernmental Panel on Climate Change has said that you can't get to net-zero carbon emissions without carbon capture, utilization and storage (CCUS). We are excited about that. Obviously, it's still nascent technology in capturing CO2 emissions, but we've got to do it on all types of fuel, if we're going to get to net zero. I'm really excited about it, especially for communities in transition. You think of Appalachia, for example: They have coal; they have natural gas. Those workers, if they're interested, could shift skills to be able to do installation of this technology. The CO2 pipelines that will be necessary for it could put lots of people to work, so I think it's a big job opportunity, I think it's a big carbon reduction opportunity, and we're going to be bullish about it."

Many billions have been spent on carbon capture — with essentially zero to show for it. The only people more excited to tout CCUS are the fossil fuel corporations who use it in their greenwashing ads.

E&E News reports on an Oval Office meeting with labor leaders, one of whom recounts their conversation:

"I brought up natural gas specifically to him, we spoke about pipelines … and he says, 'I'm all for natural gas.'"

During a Senate confirmation hearing, Energy Secretary Jennifer Granholm argued that fossil fuels aren't going anywhere: "If we are going to get to net carbon zero emissions by 2050, we cannot do it without coal, oil, and gas being part of the mix."
Tell President Biden our future MUST be fracking-free. Our existence depends on it.