Hydrogen Hubs: How This New Boondoggle Will Cost Us Billions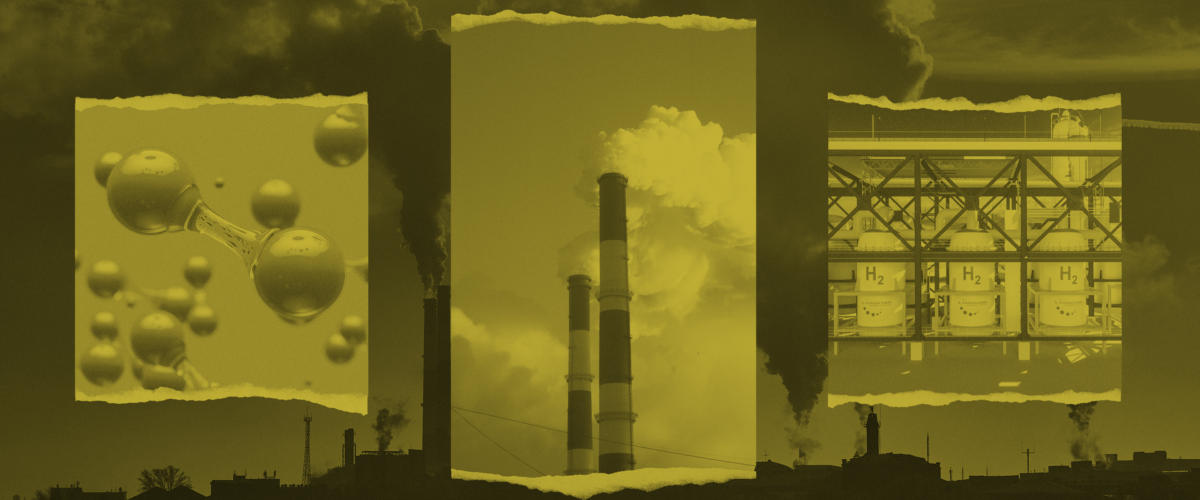 An outpouring of federal funds promises new hydrogen hubs across the country. But what exactly is a "hydrogen hub?" And what's hiding behind the hype?
An outpouring of federal funds promises new hydrogen hubs across the country. But what exactly is a "hydrogen hub?" And what's hiding behind the hype?
Editor's note: A version of this content first appeared on the website of Food & Water Action, our affiliated organization.
It may start with tanker trucks rolling past your neighborhood; a nondescript warehouse; a bold announcement from your governor, or a small press release in your local paper — your city is preparing to become part of a hydrogen hub.
So what exactly does this mean for you, your neighbors, and the climate?
In 2021, the Infrastructure Investment and Jobs Act created a pot of $7 billion to fund the development of hydrogen hubs (H2Hubs). In the coming years, the Department of Energy will distribute those funds to at least six proposals, submitted by state or regional coalitions.
Proponents proclaim the H2Hub program is central to our country's "low-carbon" future. But they are ignoring or hiding hydrogen's many problems — from its health and safety risks, to its bogus climate credentials.
The Endlessly Dirty Possibilities of a Hydrogen Hub
Though H2Hub proposals vary widely, they all entail networks of production, transport, storage, and end-users for hydrogen. Some of the proposed projects could sprawl across several states; for example, through thousands of miles of pipelines for liquid hydrogen or hydrogen-derived ammonia.
Hydrogen or ammonia could end up at fertilizer corporations, oil refineries, heavy-duty transport companies, power plants, and more. Some proposals even suggest exporting hydrogen and ammonia, creating new global markets for what are essentially fossil fuels.
Hubs will also differ by the feedstocks used to make hydrogen. Notably, DOE's program requires at least one hub to use natural gas, and at least two built in a "natural gas-rich area."
This would include hubs using industry-branded "blue hydrogen." Boosters claim blue H2 is "carbon neutral" because it combines gas-powered hydrogen production with carbon capture technology, designed to grab CO2 emissions and store them underground.
However, carbon capture has never worked reliably or at scale. And even if this fairy tale did deliver, it wouldn't be good news. With colleague Mark Jacobson, FWW board member Robert Howarth found that lifecycle emissions of "blue hydrogen" are worse for the climate than burning coal. Moreover, "blue hydrogen" would create more pollution from fracking and pipelines.
So it's no surprise that dirty energy companies have flocked to hydrogen development and H2Hub proposals. Facing blowback from broken promises and dangerous pollution, they are now using hydrogen to greenwash and create new markets for fracked gas.
At the same time, DOE requires only one of its H2Hubs to produce renewables-based hydrogen. But even so-called green hydrogen has a dirty underbelly, including its huge costs and unsustainable water consumption. It doesn't live up to its climate claims, either, as it diverts renewables on the grid to less-efficient hydrogen production.
How an H2Hub Could Shake Up the Ohio River Valley
The Ohio River Valley is home to Pennsylvania, Ohio, West Virginia — and a H2Hub proposal. Centered in West Virginia, the applying coalition includes EQT, a Pittsburgh-based gas company, and Chemours, a spin-off of chemical giant Dupont.
Nationwide, H2Hub proposals have spurred policies to make applicants more attractive to hydrogen business. The Ohio River Valley is no exception. Recently, Pennsylvania passed $1 billion in tax credits to any facility that becomes part of a H2Hub.
But here's the catch: any facility in the hub can claim a credit for hydrogen as well as fracked gas. Pennsylvania's Governor Wolf claimed that the gas credit is for a "bridge" phase that should last only "a year or two," before hydrogen goes completely renewable. Yet, the law allows companies to claim the gas credit for two decades.
What's more, this Pennsylvania credit adds to the flood of subsidies hydrogen producers can claim via last year's Inflation Reduction Act.
A H2Hub in the Ohio River Valley, and anywhere, is a risky bet on a huge buildout of doubtful technology. Residents would be stuck with the pollution, and taxpayers would be stuck with the bill.
H2Hub grants could cover, at most, 50% of a project's cost — the rest would fall to private companies and other public sources. That includes taxpayers, through subsidies like those in the Inflation Reduction Act and Governor Wolf's measure.
Plus, for hubs that include power production, utilities could pass the cost of new hydrogen infrastructure onto ratepayers. By one estimate, higher taxes and utility rates would cost Pittsburgh households at least $1,000 a year if a hub came to Western Pennsylvania.
"Permitting Reform" Threatens to Fast-Track H2Hubs
In late 2022, so-called permitting reform dominated debate in Congress. While proponents argued that we need permitting reform for clean energy buildouts, we know it's really about fast-tracking fossil fuel infrastructure — including hydrogen projects.
A leaked early draft proposal bore the watermark of the industry group American Petroleum Institute, which seems to have majorly swayed the text.
Massive public opposition blocked the proposal from passing this year. But as many Congressmembers are prioritizing it this year, we're staying vigilant. Proposals like those bearing an API watermark would not only grow fossil fuels — it would drive even more pollution and emissions through fast-tracked hydrogen hubs.
Hydrogen Hubs Distract From Real Climate Solutions
DOE won't announce the H2Hub grant recipients until later this year. It will take years more for projects to come online. However, the program is only part of a bigger buzz around hydrogen.
Projects across the country are already in motion, including hubs that could move forward without DOE funding. Those projects count venture capitalists, huge corporations, state universities, and more among their backers and developers. They'll also rely on federal and state subsidies to boost profits.
But we can't let these projects go through without a fight.
Ultimately, H2Hubs will be expensive and resource-hungry, especially for energy and water. A buildout will fleece taxpayers while doubling down on dangerous pollution in frontline communities.
At the same time, H2Hubs could entrench our fossil fuel dependence and distract from real climate solutions. By worsening the climate crisis, they'll threaten our food and water, too.
We know how to fight climate change, and it doesn't involve expensive, polluting technologies backed by Big Oil and Wall Street. Instead, we need bold plans to phase out fossil fuels and replace them with clean, renewable energy.
People need to know: we don't need expensive, polluting hydrogen hubs. We need renewables, now.