The Mountain Valley Pipeline Could Decide President Biden's Climate Legacy
We are fighting to ensure he sides with people, not fossil fuels. We marched with allies from Protect Our Water, Heritage, Rights (POWHR) and the Build Back Fossil Free coalition to make it clear where his allegiance must lie.
A collaboration of the Protect Our Water Heritage Rights Coalition and Food & Water Watch. All photography by Matthew Pickett.
Frontline and Indigenous communities turned out in record numbers to elect President Biden, who campaigned on a platform of bold climate action. But our allies fighting on the frontlines of the Mountain Valley Pipeline (MVP), a sprawling, multi-state fracked gas monstrosity, have yet to see the President match his rhetoric with executive action. Within the next six months, it will be agencies and appointees in the Biden administration who will cast deciding votes on the controversial project's future, offering a critical climate test by which the president's legacy will be judged.
MVP Is An Unnecessary Relic of The Fossil Fuel Era
We are facing a climate crisis of epic proportions and fossil fuels are to blame. But instead of issuing a clear ultimatum to end our reliance on fossil fuels, our President has remained silent on some of the largest fossil fuel infrastructure projects moving forward under his administration. MVP is one of them.
The MVP is a massive interstate fracked gas pipeline, seeking building approvals across West Virginia, Virginia and North Carolina. A frequent perpetrator of environmental injustice, the pipeline threatens to burden low-income communities and communities of color with the health and safety risks of living near a fracked gas pipeline and the trauma of battling the corporate intruder.
The proposed route covers hundreds of miles of high landslide risk areas, cuts through nationally protected forests, threatens regional waterways and clean drinking water supplies, and will add an additional 90 million metric tons of greenhouse gas emissions to the atmosphere every year — equal to that of 23 new coal plants. The pipeline corporation has already accumulated millions of dollars in penalties owed for environmental violations and mired dozens of landowners in extensive legal battles to regain access to their private property taken using eminent domain.
MVP is wildly out of line with Biden's climate promises — it must be stopped.
This October, We Brought The Fight Against MVP to Biden
Holding signs and leading chants, we brought the fight against MVP to the White House. We marched with frontline activists and people from around the country as part of the People vs Fossil Fuels mobilization, demanding President Biden take executive action to end the fossil fuel era and stop MVP. A full photo essay is available from our allies at POWHR.
The People V. MVP
When a pipeline corporation comes to your door requesting permission to bore through your family farm, the fossil fuel resistance gets personal. For residents of Southwest Virginia, the fight against MVP is more than just a counter to the fossil fuels amplifying the climate crisis — it is a fight to protect family and home.
SCROLL SIDEWAYS TO NAVIGATE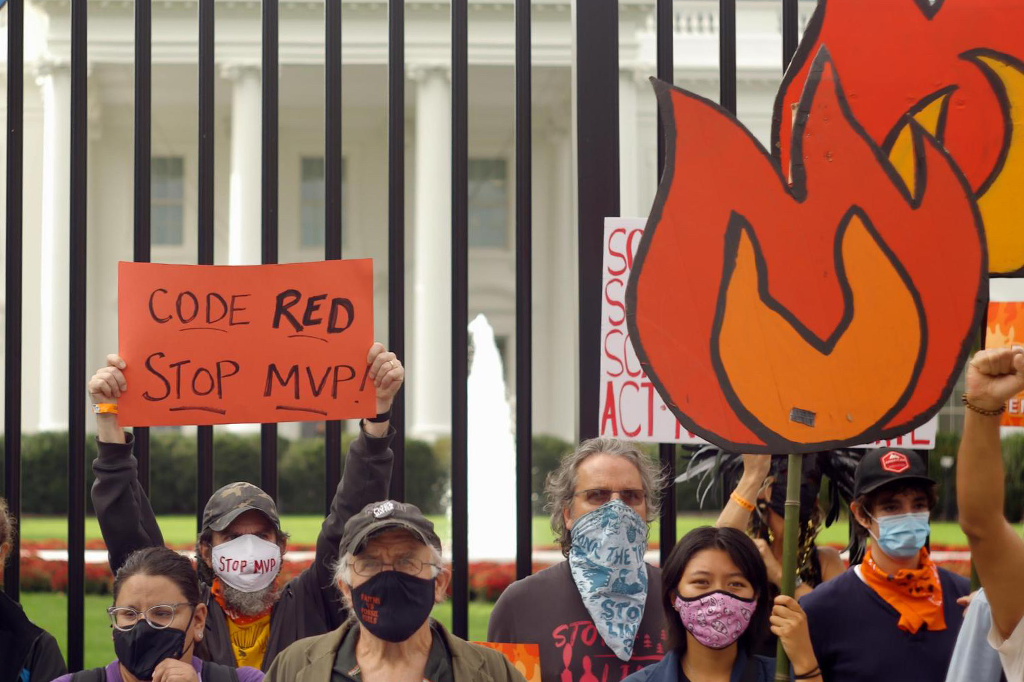 The People V. MVP
Biden has thus far abdicated his responsibility to act on MVP. That means it is the frontline communities who must bear the burden we elected him to relieve. It's time for the President to step in and take this pipeline off our shoulders.
THE PEOPLE V. MVP
"We have been organizing against the Mountain Valley Pipeline since 2014 and we will continue to resist that project until it is defeated," said Russell Chisholm, Coordinator, Mountain Valley Watch, and Co-Chair, Protect Our Water Heritage Rights. "Not just to protect our water, not just to protect that tiny spring that feeds my home, but to protect our brothers and sisters who live along the Gulf Coast, who live with the climate induced catastrophes all the way back to Katrina."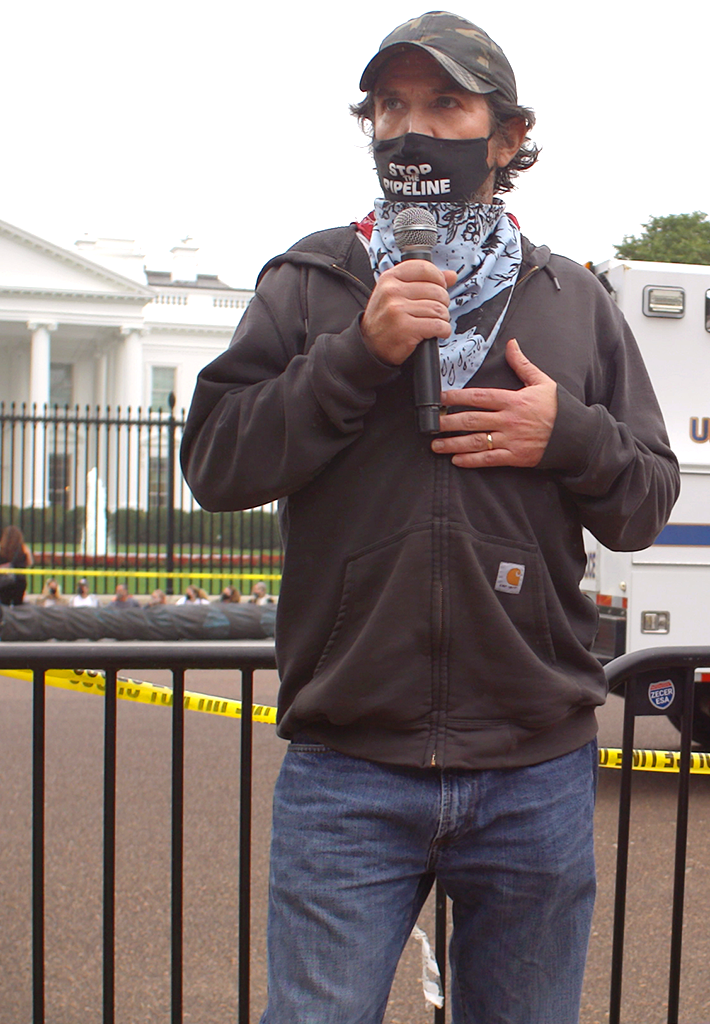 THE PEOPLE V. MVP
"When we march together, we show the power that the people hold," said Jorge Aguilar, Food & Water Watch Southern Region Director. "President Biden cannot be silent in the face of our movement — it's time for him to make MVP the first domino to fall, signaling the end of the fossil fuel era."
To Come Clean on His Climate Commitments, Biden Must Stop MVP
MVP is wildly out of line with Biden's climate goals, and it will take us backwards in the fight to lower our reliance on the fossil fuels driving the climate crisis. We stand in solidarity with frontline and grassroots activists across Virginia including our allies at POWHR, as they face down their eighth year of sustained resistance to the project.
Ultimately, the decision on MVP is one that President Biden can influence. His Army Corps of Engineers and Federal Energy Regulatory Commission will have the final say on the project. Will he shut the project down like he did with Keystone XL? Or will he remain silent, and lock the planet into a fossil fuel future, as with Line 3? The choice is in the president's hands.
Join us in demanding President Biden side with people, not fossil fuels.
Send Biden a message — it's time to stop the Mountain Valley Pipeline.