Our Years-Long Quest to Stop the Easterday Mega-dairy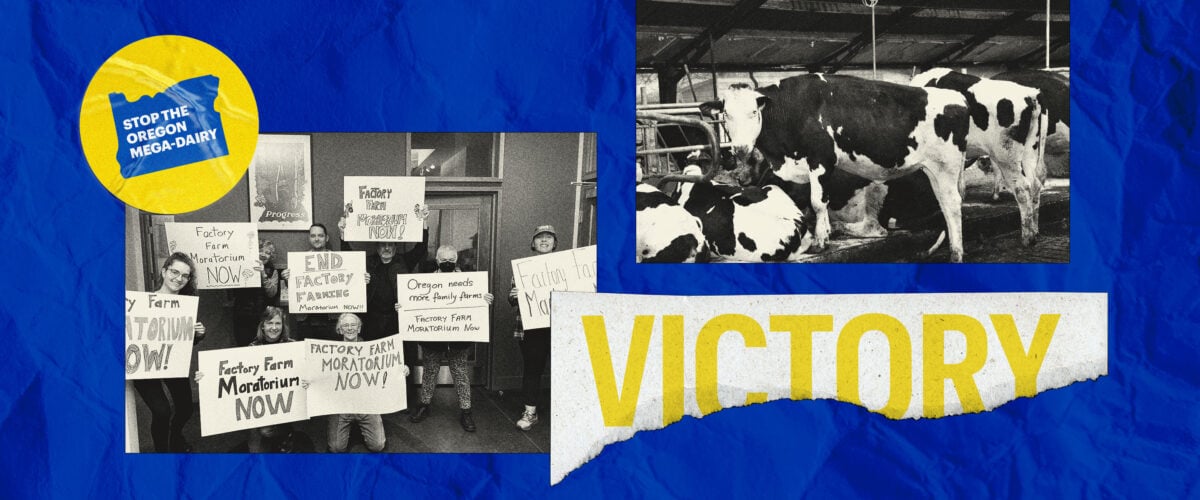 Outrageous pollution. Court battles. Ghost cows. This is the 8-year saga of our fight to shut down one mega-dairy and stop another from taking its place.
Outrageous pollution. Court battles. Ghost cows. This is the 8-year saga of our fight to shut down one mega-dairy and stop another from taking its place.
In August, we celebrated a victory years in the making against a proposed Oregon mega-dairy. In the wake of legal battles, dozens of environmental violations, and strident public opposition, Easterday Dairy finally announced it was standing down.
Since 2019, after buying land formerly home to a dairy riddled with similar problems, Easterday sought state approval to operate a 28,000-cow mega-dairy.
Yet, it violated pollution permits again and again, endangering neighbors and drinking water supplies, without a single cow on site. Meanwhile, state regulators responded with little more than a slap on the wrist, refusing to deny Easterday's permit application outright.
This victory comes after eight years of relentless organizing. With allies, we publicized the dairy's violations, demanded accountability from state officials, and called for its closure.
The Easterday saga underscores all of the threats that mega-dairies pose to Oregon, and we won't stop until we win a state-wide moratorium on all factory farms.
Before There Was Easterday, There Was Lost Valley Farm
The story began in 2015, when Greg te Velde purchased land in Boardman, Oregon to open a 30,000-cow mega-dairy. Te Velde's Lost Valley Farm would become the second-largest dairy in a state already struggling with huge amounts of factory farm pollution.
So when Lost Valley was proposed, we wasted no time in opposing it. We formed a new coalition with allies and collectively we helped thousands of Oregonians call on state regulators to deny Lost Valley's permit.
Despite all the red flags and public opposition, the Oregon Department of Agriculture (ODA) greenlit Lost Valley. With regulators' approval, the mega-dairy opened before it finalized a waste management plan, secured permanent water rights, or finished construction.
The Lost Valley Disaster Strengthened the Case for a Moratorium on Factory Farms
Lost Valley had its first environmental violation a mere month after opening. It would be the first of more than 200 in just over a year.
Violations included improper manure storage, overflowing lagoons, and improper management of dead animals. These violations put nearby communities and 81 public drinking water systems at risk.
At the same time, these conditions posed serious threats to the welfare of the dairy's cows. And Lost Valley failed to provide clean water and working bathrooms for its workers.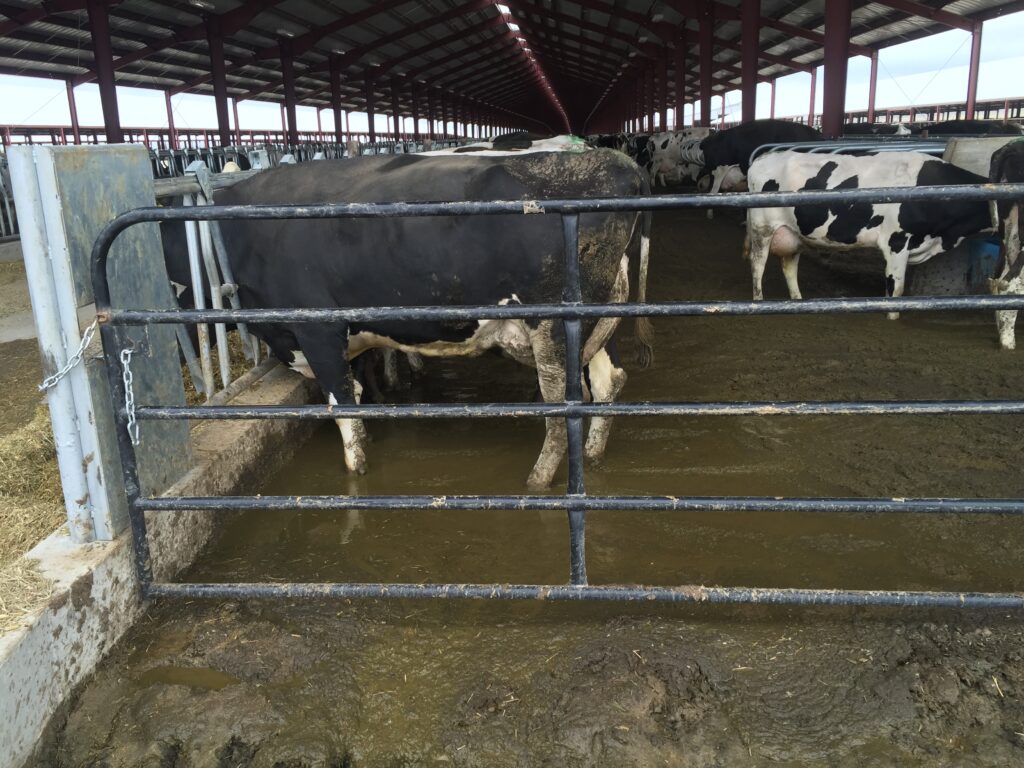 In early 2018, ODA fined and then sued Lost Valley for endangering drinking water supplies with its wastewater pollution. The resulting settlement between the state and te Velde restricted operations at the facility. It also called on te Velde to clean up the estimated 30 million gallons of manure on the property.
Te Velde then filed for bankruptcy on the eve of a bank foreclosure auction of the facility's cows.
That summer, we called on Oregon officials to shut down Lost Valley. After losing its waste management permit, changing hands to the U.S. Department of Justice and a trustee, and getting slapped with another fine — the biggest fine ODA ever issued to a factory farm — Lost Valley finally announced it would close its doors.
The Lost Valley debacle emphasized what we had long known — mega-dairies are a threat to our health and environment. They have no place in Oregon or anywhere else.
So in 2018, we called on the Oregon state legislature to place a moratorium on mega-dairies and ensure that Lost Valley never happened again.
Easterday's Agribusiness Empire Takes Over Lost Valley's Mess
In early 2019, the Easterday family's agribusiness empire snapped up the Lost Valley property to open a new mega-dairy. The Washington-based Easterdays were already known for their vast crop operations and for raising beef cattle for Tyson.
Now, seeking to expand even further, they applied for a permit to establish Easterday Dairy and confine 28,000 cows.
The facility was slated to produce six million cubic feet of manure and 12 million of wastewater every year. But before it could bring cows on-site, Easterday had to clean up the 30 million gallons te Velde left behind.
In less than a year, ODA declared the clean-up complete. Yet we discovered that in 2021 alone, Easterday Dairy racked up 11 violations of its wastewater discharge permit — without a single cow on-site.
Meanwhile, family patriarch Cody Easterday became embroiled in a massive scandal. Meat giant Tyson sued Easterday's ranching business for fleecing it more than $200 million.
Tyson had discovered that it had been paying Easterday for raising hundreds of thousands of ghost cows: the cows Easterday claimed to be raising for Tyson didn't actually exist.
The Coalition Says "NO" to Easterday
Soon after, Easterday Ranches filed for bankruptcy, making it clearer than ever that an Easterday Dairy would be disastrous. Our coalition urged state regulators to deny Easterday's permit for the mega-dairy.
This should have been a no-brainer, but the story doesn't end there. After Cody Easterday pled guilty to charges, his son Cole submitted a new application for the mega-dairy. So with the support of 1,400 petition signatures, our coalition called on Governor Brown to deny the application.
Meanwhile, Easterday Dairy's legal troubles continued. Fall Line Capital, which owns the neighboring land, stopped allowing Easterday to apply manure and wastewater to the farm.
Easterday then unsuccessfully sued Fall Line for breach of contract. It had racked up dozens of water quality permit violations, which it blamed on its inability to access Fall Line's farm to manage fertilizer application.
Amid the scandals, legal battles, pollution violations, pressure from our coalition and other groups, and public outcry, Easterday finally gave up and sold the property.
However, ODA never denied the Easterday application, which it should have done long ago. Now, the site has returned to its previous owner, and we'll be keeping a close eye out for what comes next.
Mega-Dairies Are Bad News for Oregon
The Easterday story is part of a larger trend in Oregon. The state's dairy industry has dramatically shifted from family-scale farms to industrial mega-dairies.
As Big Dairy grows, smaller dairies have shuttered. Forty years ago, Oregon had 4,000 family-sized dairies. Today, there are only 200.
Along with gutting local economies, these mega-dairies bring mega problems to public health and the environment. They use huge quantities of the state's precious and dwindling groundwater resources. They produce sickening air pollution and emit climate-warming methane. And they're huge sources of water pollution that threaten drinking water and aquatic ecosystems.
Mega-dairies Endanger Neighbors with Cancer-Causing Nitrate Pollution
Lots of cows lead to lots of manure, and it's common practice for factory farms to spread it on fields as fertilizer. But they often produce more manure than crops can handle. The excess runs off of fields and leaches into groundwater.
Before it's spread on fields, manure is stored in massive lagoons and tanks that can leak or spill. Such spills have resulted in the release of horrific amounts of pollution in Oregon.
This pollution is especially dangerous because of its high concentration of nitrates. Nitrates are linked to cancers, thyroid disease, birth defects, deadly "blue baby" syndrome, and more.
In Morrow County, where Easterday Dairy would have sat, nitrate pollution from factory farms and other sources has contaminated private wells for decades.
It's gotten so bad that in 2020, we led allies in petitioning the Environmental Protection Agency to take emergency action. The EPA has yet to formally respond, leading Morrow County to declare a state of emergency last summer.
No one should be afraid to drink the water from their tap or worry about how they're going to bathe and cook. This crisis is yet another reason why we need a moratorium on factory farms, in Oregon and nationwide.
We Need Lawmakers to Stop Mega-dairies and Other Factory Farms
While we fought Lost Valley and Easterday, we were also fighting for laws that would stop future fiascos like these. We rang the alarm bells about factory farms in Oregon, pressuring lawmakers to introduce bills to put a moratorium on mega-dairies in 2019 and 2021.
This year, we broadened the fight and introduced a bill to enact a moratorium on all factory farms.
Thanks to our coalition's advocacy and organizing, we passed SB85, a factory farm reform bill that brings us closer to the moratorium Oregon needs. The bill contains critical reforms that will increase local control and accountability.
It's not the moratorium we're demanding, but it's a huge step in the right direction. And it wouldn't have been possible without the relentless work of Food & Water Watch and our coalition partners.
The passage of SB85 and the Easterday victory have shown the power of our organizing. We exposed Easterday's misdeeds, forced regulators to hold the dairy accountable, and prevented officials from rubber-stamping the project.
Now, we're celebrating SB85, but we're also planning the next steps in our campaign to win a statewide moratorium on factory farms. The Easterday saga has only underscored what we've known all along: when it comes to factory farms, regulation is not enough. We need a moratorium.
We're continuing to build power as we prepare to fight for a full moratorium bill in the future. We're organizing in communities around the state and pressuring legislators to be accountable to us, their constituents, rather than Big Dairy.
Food & Water Watch is fighting for the Oregon we all deserve. We can't do it without you. Join us!
Update (10/3/2023): In late September, plans for a proposed factory chicken farm in northwest Oregon fizzled out when the owner put the land up for sale. If approved and built, "Evergreen Ranch" would have been the largest chicken farm in the state, confining 750,000 birds for ag giant Foster Farms. 
For the past year, neighbors have fought the proposal pending before the Department of Agriculture. Now, with the passage of SB85, building a factory farm like this one has become much less attractive.
The defeat of Evergreen Ranch is yet another win against factory farms in Oregon. Like our Easterday victory, it shows what's possible when people power drives meaningful legislation.
We're cheering on the community members who fought against Evergreen Ranch and who can now rest more easily without its looming threat. And we're looking forward to continuing our fight for a factory farm moratorium to ensure that no community has to face a new factory farm in their backyard.
Learn about opportunities to join our campaign for a factory farm moratorium in Oregon!