Futures Trading: Another Threat To Our Right To Water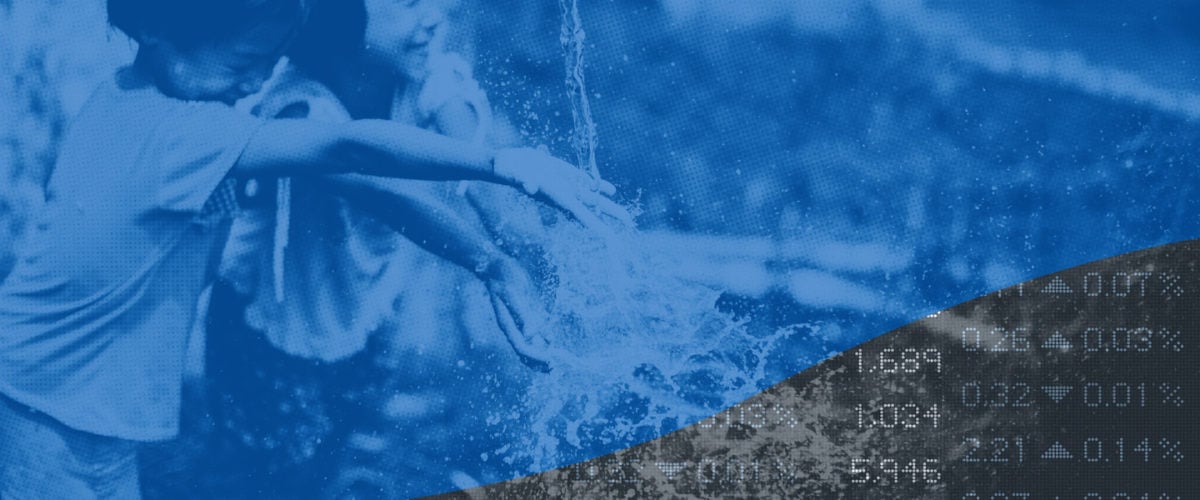 Water futures trading opens a new frontier for privatization — one that further threatens our human right to clean, affordable water.
Water futures trading opens a new frontier for privatization — one that further threatens our human right to clean, affordable water.
In late 2020, the Chicago Mercantile Exchange (CME) launched the first water futures market, called the Nasdaq Veles California Water Index Futures. This market allows financial speculators to literally gamble on the price of water. But how does that actually work? And what are the consequences?
Water Futures Open Water Rights To Gambling
First, let's start with water rights. Generally, states west of the Mississippi allocate water resources through a water rights system based on the doctrine of "first in time, first in right." Because of the history of the West, those with the most senior water rights are usually those who use it for agricultural purposes.
These rights are appropriative. Those who hold them have the legal right to divert water from its natural flow; for example, via crop irrigation. In California, as in other western states, rights holders can sell or lease the rights to use the water to others.
The index that Nasdaq Veles created is a single number that estimates the prevailing price of water in California. This number changes as water prices change. It's based on an algorithm and a supposedly representative list of transactions — both of which Nasdaq Veles keeps confidential.
CME's new market allows investors to bet on changes in the index. Investors do this by entering a futures contract. The buyer and seller of the contract bet on how the index price will change by a predetermined date in the future. The financial speculators who sell futures contracts hope the price goes down, so they get paid at that date. Those who buy futures contracts hope the price goes up, so they get paid at that date.
When the contract period ends, neither the buyer nor seller will get any water or rights to water. Instead, the "winner" gets cash. They "win" the difference between the index price at the start of the contract and the price at the end. So if no actual water is changing hands, what harm can it do? Turns out, a lot.
Water Futures Are Bad News For Real-Life Water Access
Proponents of the market say that rather than a casino, the futures contracts will function more like insurance. Farmers who participate in the market can insulate themselves from volatile changes in water prices by securing another source of income.
But the water futures market has inherent risks. It opens up the doors for further commodification and privatization of water. It can reframe water not as it is — a basic human right and resource that should remain in the public trust — but rather as greedy speculators would like it to be — something to bet on, like oil or gold. And, in doing so, it opens up water to excessive speculation and market manipulation, with consequences on the price of actual water.
First, investors, especially if they have huge contracts and stand to make or lose a lot of money, may try to profit from the futures market by manipulating the underlying market for real-life water. A single investor is allowed to buy water futures contracts equal to 31% of the average annual water rights transactions. Market manipulation is rampant in other futures markets that are based on price indices.
California is particularly vulnerable to market manipulation because it lacks price transparency for water rights transactions. This is even more concerning considering that the CME can keep the data and algorithm of its index secret, calling it "confidential business information." The public has no way of knowing if the index is accurate.
Excessive speculation is the second way that the water futures market could lead to real world price hikes. The presence of many large speculators on the futures market could send price signals that the price of water will increase. So rights holders of real-life water may hoard their water in response. This would cause prices for water to rise.
If prices rise, small farmers will be among the hardest hit because agricultural users are the largest sellers of water rights. High prices would make irrigation unaffordable for many small farmers. They'll close up shop and sell their land, usually to big agribusinesses. That means more farmland consolidation and more profits and power to big corporations.
We Need The Future Of Water Act To Protect Our Water
Financial speculators should not be allowed to gamble on and profit off of drought in California. As droughts, wildfires and climate chaos threaten our water supplies, we need to protect this invaluable resource as a public trust, managed in the public interest.
Water futures will incentivize the rich to protect their interests in water. Meanwhile, everyone else will face increasingly scarce and unaffordable water.
Fortunately, in March 2022, Sen. Elizabeth Warren and Rep. Ro Khanna introduced legislation to ban water futures trading. The Future of Water Act will ensure water is not a financial toy for speculators to play with, hurting families and small farmers in the process. Passing this legislation is an essential step to secure our human right to water.
Tell Congress to cosponsor the Future of Water Act!