The World's Biggest Carbon Capture Scam is Coming to Iowa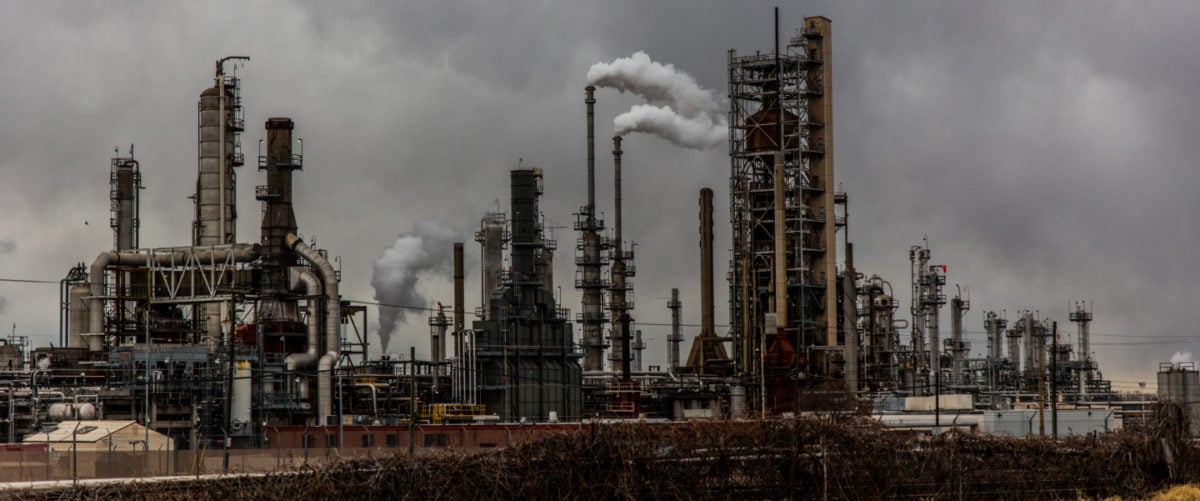 Offering a lifeline to the polluting ag and fossil fuel industries, two new carbon capture and storage proposals threaten Iowa's communities, land and our climate.
Offering a lifeline to the polluting ag and fossil fuel industries, two new carbon capture and storage proposals threaten Iowa's communities, land and our climate.
Overnight, Iowa has become ground zero for the world's biggest carbon capture scam.
Two corporations, Summit Carbon Solutions and Navigator Heartland Greenway LLC, have proposed carbon capture and storage (CCS) projects. Each of them will require building hundreds of miles of hazardous pipelines across the state.
The science and technology behind the ventures are unproven and unsound — minor details overlooked in the name of corporate greed. Iowa's Governor Kim Reynolds is happily ushering the projects forward.
We're talking about "capturing" carbon emitted from ethanol and fertilizer facilities, transporting that hazardous material via pipeline, and injecting it into ancient rock formations. The companies claim that their technology is a requisite solution to the climate crisis. They're lying.
"Capturing" Carbon Won't Stop the Climate Crisis — It'll Dig a Deeper Hole
CCS is a false climate solution, propped up by Big Energy and Big Ag so they can continue to profit. The technology relies on fundamental falsehoods to pull the wool over the public's eyes about its real climate impact.
Here's how it's supposed to work: carbon capture attempts to trap greenhouse gas emissions from smokestacks (in this case, from dirty ethanol plants). It then transports the hazardous gas through communities via explosive pipelines and injects it underground.
In reality, these projects fail to capture all harmful emissions. They also don't account for the pollution that goes into creating ethanol in the first place.
The industry also keeps quiet about CCS' role in fossil fuel extraction. The dirty truth is that most of the captured carbon is pumped into oil wells to increase oil production.
Carbon Capture Keeps Big Ag Alive
Over 13 million acres of land in Iowa are devoted to growing corn. Of that corn, 50% is currently used to produce ethanol. But those uniform acres of corn come at a serious cost to climate and communities.
Industrial monocropping traps farmers in a cycle of dependence on Big Ag giants, like Monsanto, and forces their hand. Producers are required to use destructive farming techniques, like tilling and applying fossil fuel-derived fertilizer, to turn a profit.
Moreover, Big Ag has profited off the lie that corn-derived ethanol is a "low-carbon" fuel. They hope we'll ignore the mega-emissions and harmful practices required to make it, so they can keep this system going.
Iowa is also littered with more than 10,000 factory farms, leaving communities to deal with their impact. This includes harmful water pollution, slumping rural economies, and negative health effects.
The ethanol industry plays a direct role in the success of the factory farming model. A leftover byproduct of the ethanol process is distillers grain, a cheap feed option often used in factory farming.
Indeed, the existence of cheap feed is one of the leading factors keeping factory farming profitable. CCS will only make it worse, entrenching ethanol plants and factory farms instead of shifting to a more sustainable system.
Carbon Pipelines Keep Fossil Fuels on the Grid
CCS and the miles of pipelines required to transport hazardous gases offer a lifeline to the fossil fuel industry. Pipelines created for carbon can also be used to transport fossil fuels, extending the industry's reach.
What's more, CCS can be used to extract even more fossil fuels. The majority of domestic CCS projects currently in operation are small ones located close to fossil fuel extraction and power plant sites.
Where the carbon is created at these sites, it's injected underground to extract oil. Summit has left the door open to this destructive process, known as enhanced oil recovery. Their pipeline runs right to Bakken oil fields in the Dakotas.
Iowa CCS Projects Come at Our Risk and Our Cost
Iowans are expected to take on all of the risks of these CCS proposals, while Wall Street gets the reward. And the risks are tremendous.
Carbon is an invisible, odorless gas that acts as an asphyxiant in the event of a pipeline rupture. It's happened before; an entire town was gassed in 2020, sending 49 people to the hospital. Some of them are now saddled with negative lifelong health issues.
Rural community health systems are already overburdened by the enduring pandemic. Most Iowa communities don't have the training or timely access to emergency services to properly handle a mass gassing event. The last thing our support services need is dangerous hazardous gas moving through peoples' backyards.
Tens of thousands of Iowans are expected to risk our lives for these projects — and we're expected to fund it, too. Like Big Ag and the fossil fuel industry, Summit and Navigator can only profit by crushing real people.
Despite clear proof that CCS doesn't work, we continue to see public tax dollars wasted on this false promise. Summit's record-keeping shows their carbon pipeline proposal will be eligible for up to $600 million in tax credits each year. This is an immoral use of our public money.
Iowans Deserve Better Than Carbon Capture Scams
Iowans' lives are a damn sight more important than the balance of multi-millionaires' bank accounts. If you believe in putting people before corporate profit, join us in opposing carbon pipelines.
Iowans: Tell the state Utilities Board to say NO to carbon pipelines!