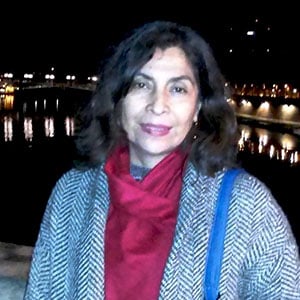 Elyzabeth Peredo Beltrán
Elyzabeth Peredo Beltrán is a social psychologist, writer and activist on water and human rights issues. Elyzabeth was the co-founder of TAHIPAMU, a women's history research workshop during the 1980s, which produced women in history research and feminist writing. She is the author of several books, articles and video scripts about social, economic and cultural rights related to water, women, racism and environmental crises.
Between 1999 and 2003, Elyzabeth was the Coordinator of the National Committee for the Solidarity with Domestic Workers in Bolivia. She belongs to the Women's Net for Transforming the Economy in Latin America (REMTE). Since 2006, she has promoted and coordinated the "Blue October" campaign in Bolivia, a large annual social mobilization for the right to water as a common good. Elyzabeth lives in La Paz, Bolivia and currently is the Executive Director of the Solon Foundation.