How Can You Tell If Chicken (Or Pork) Was Actually Inspected By USDA?
We filed FOIA requests to find out which poultry plants have signed up for privatized inspection — and the list is long.
Updated 1/12/2021
First, the U.S. Department of Agriculture (USDA) opened the door to privatized inspection in poultry plants in 2014. Now, they passed a new rule that opens the door for the same privatized inspection option in hog-slaughter plants. With privatized inspection, the number of government-employed inspectors on slaughter lines drops. At the same time, slaughter line speeds almost always increase. This has created serious food safety issues, including greater violations of critical food-safety standards.
We're keeping track of which plants are privatizing and methods for identifying their products so you can single them out at the store.
Background on Privatized Inspection
After years of controversy, in 2014 the U.S. Department of Agriculture (USDA) changed the rules for food safety inspection in poultry plants, allowing privatized inspection under a plan called the New Poultry Inspection System (NPIS). The NPIS system removes most USDA inspectors off slaughter lines, and replaces them with company employees, leaving only one USDA inspector left on the slaughter line to inspect carcasses. That lone USDA inspector is responsible for evaluating up to three birds per second in broiler chicken plants, and one turkey per second in turkey slaughter facilities. Plants that participated in a pilot program were allowed to run at faster speeds under NPIS and new plants entering the program have pushed for higher line speeds as well. The food safety track record of plants using privatized inspection remains troubling.
Which Plants Are Privatizing
155 poultry slaughter plants have converted to NPIS as of January, 2021, including some of the biggest names in the industry: Tyson, Butterball, Perdue and Pilgrim's Pride. Food & Water Watch challenged the rule change that created NPIS. One of the arguments we made in court was that concerned consumers would not be able to tell if the product they were buying had received traditional USDA inspection or the new form of privatized inspection. The USDA's response was that consumers could use the Freedom of Information Act (FOIA) to find out which plants were participating in privatized inspection.
We've been filing FOIA requests to find out just that.
Click here for the list of poultry plants that have signed up for privatized inspection under NPIS.
The USDA also finalized a rule that allows the same kind of privatized inspection in hog slaughter plants.
Click here for the list of companies that are expected to convert to the privatized inspection system for pork.
Just like in poultry plants, less USDA inspection and higher line speeds will mean trouble for food safety, animal welfare, and worker safety.
Identifying Products From Privatized Plants
All meat products are required to include a label with a USDA mark of inspection and an establishment number that identifies which plant produced the meat. The establishment number can be found in the same area as the "USDA inspected" stamp or elsewhere on the package. It will start with "Est." and then list the code for the specific facility, as shown in this picture: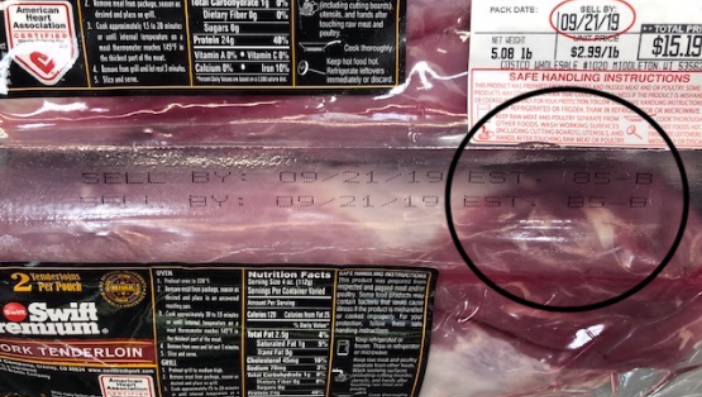 Take a stand against increased line speeds for meat inspection. Your signature could help save lives.