The Toxic Chemicals and Toxic Greed Behind the East Palestine Disaster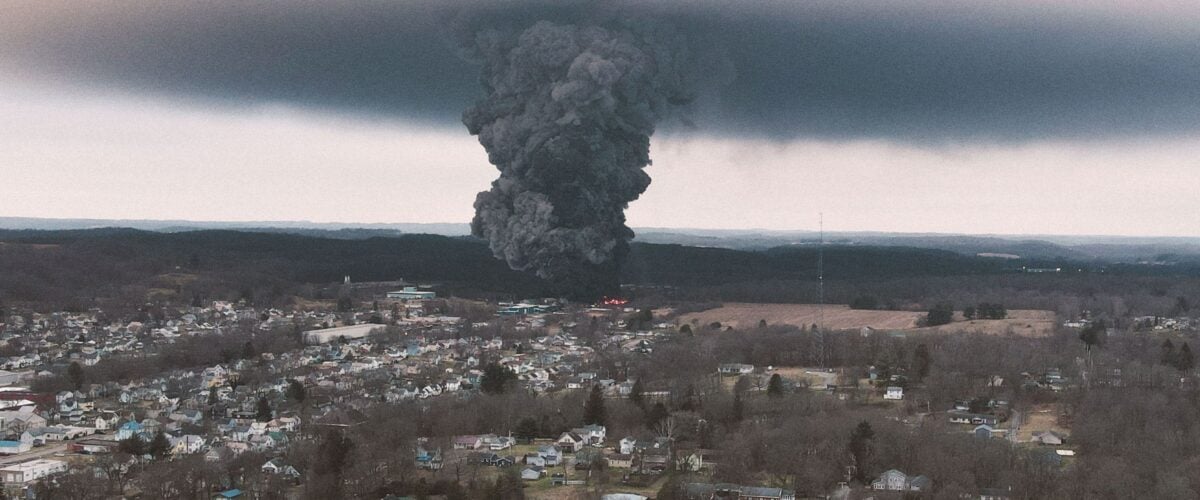 The disaster in East Palestine endangers thousands of residents, underscoring the need for better regulations and an end to dirty industries.
The disaster in East Palestine endangers thousands of residents, underscoring the need for better regulations and an end to dirty industries.
In February 2023, a Norfolk Southern train derailed in the small town of East Palestine, Ohio, marking one of the U.S.'s biggest environmental disasters in recent memory. In the following days, huge fires sent a dark cloud of chemicals and smoke into the air and over nearby towns.
The derailment sparked confusion, anxiety, and outrage in East Palestine — but it could have been prevented. A winding web of lax regulations, overpowered corporations, and sprawling dirty industries are making accidents like this more and more likely.
How This Derailment Became a Public Health and Safety Disaster
The derailed train carried several hazardous chemicals; notably, vinyl chloride, an ingredient in hard plastics like PVC. After the initial derailment, emergency crews burned off vinyl chloride that spilled from five derailed train cars.
This chemical poses many health risks, including liver damage and cancer with long-term exposure. It also breaks down into other dangerous compounds like dioxins, hydrochloric acid, formaldehyde, and carbon monoxide.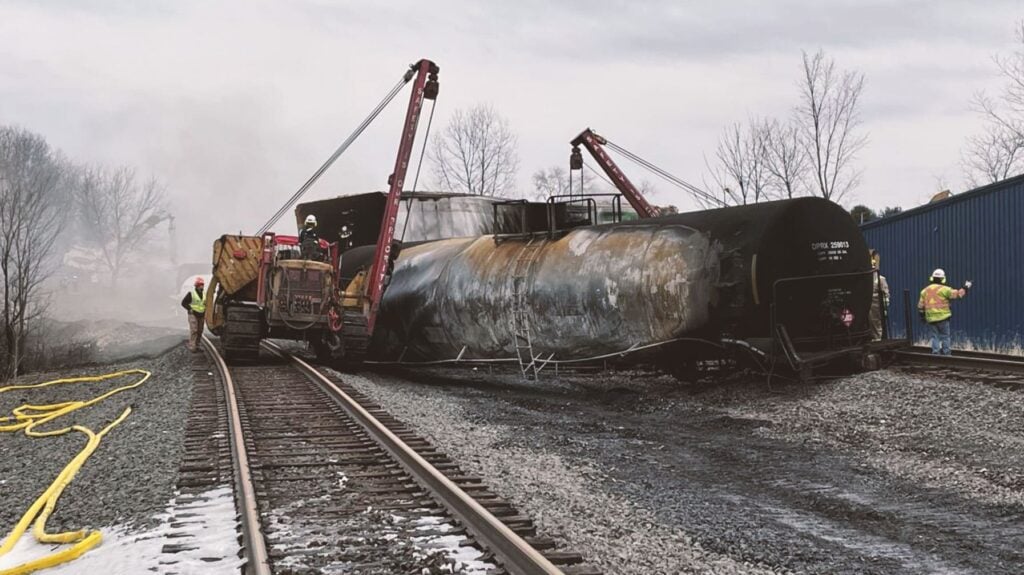 Days later, the Environmental Protection Agency publicized even more hazardous chemicals that leaked in the derailment.
Advocates and residents now worry about how these chemicals will impact the water supply, their homes, and their land. Already, officials have found chemicals from the crash in the Ohio River, which supplies drinking water to much of the region. The Ohio Department of Natural Resources estimates that the spill has killed nearly 44,000 animals in nearby waterways.
Officials announced the end of evacuation orders on February 8, but many worry that it's way too soon to return.
A strong odor remains in the air weeks later, and people as far as 25 miles away are reporting symptoms. Wildlife, chickens, and family pets are becoming gravely ill or dying. Experts worry that the full consequences of the spill might not appear for decades.
Without Action, This Won't Be the Last Major Incident
East Palestine lies about 40 miles away from Pittsburgh, Pennsylvania, in a region that is no stranger to freight trains or the hazardous cargo they carry. This disaster marks the seventh major derailment in the Pittsburgh region in the last five years.
Local rail routinely transports toxic chemicals used by the petrochemical industry, like the vinyl chloride spilled in East Palestine. The volume of these chemicals will grow thanks to the new nearby ethane cracker plant, which turns fracked gas into plastic. Moreover, climate scams like hydrogen and carbon capture could further push petrochemical expansion in the region.
Hazardous chemicals on rail pose a national threat, too, as the country sees 1,700 derailments annually. On an average day, 12,000 rail cars bearing hazardous materials pass through U.S. cities and towns. That includes cars bearing fossil fuels like liquefied natural gas.
Food & Water Watch has already spent years fighting LNG transport by rail, which risks catastrophic explosions and fires in an accident. Yet, the Department of Transportation allows companies to ship LNG by rail without additional safety measures. These bomb trains are already running through Florida, with more plans for New Jersey and Pennsylvania.
Rail Corporations Have Made Transport Less Safe by Cutting Costs and Fighting Regulations
Transporting toxic chemicals and fossil fuels is always hazardous. But we can blame many of our disasters on the cost-cutting, dangerous policies pushed by rail corporations.
These corporations have long held monopolies over vast parts of the country. Those monopolies enable them to boost profits for shareholders, while disregarding public health and safety.
As one result, rail companies get away with self-policing under ineffective oversight. For example, Norfolk Southern — the company that owns and operates rail in East Palestine — inspects its own trains. Yet, in recent years, the company has cut down its inspection staff to cut costs. This has drastically reduced the time that inspectors have to do their jobs.
Moreover, Norfolk has a history of lobbying against safety regulations. For example, it worked to narrow the scope of the "high-hazard" classification for freight, which requires greater safety measures. As a result, the cargo derailed in East Palestine was classified as "nonhazardous," excluding it from safety measures that could have prevented the disaster.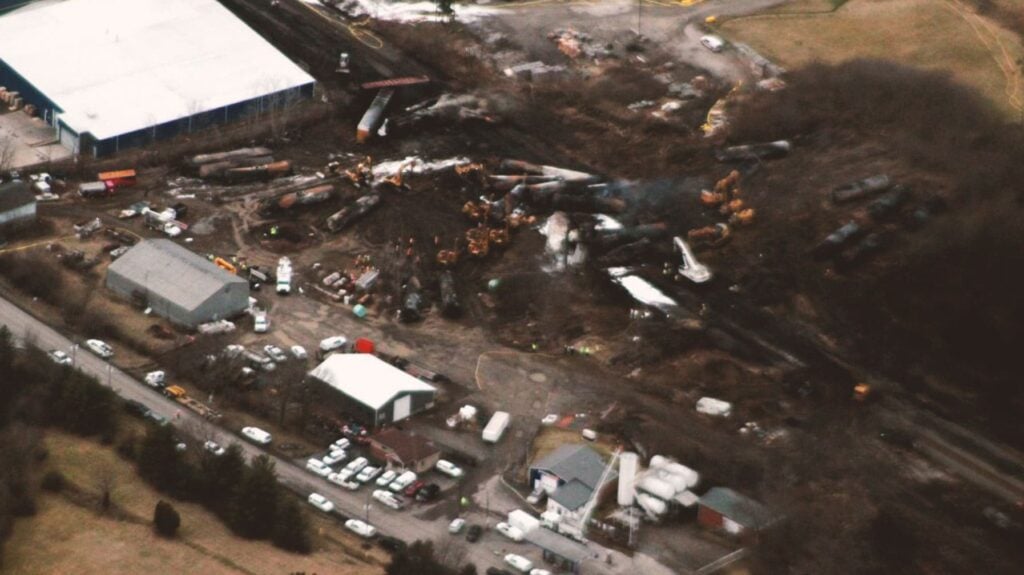 We Can Prevent Disasters Like These With Better Policy
The problem of rail deregulation is a symptom of a larger problem: expanding dirty energy networks that endanger communities to boost profits for greedy corporations.
From fracking wells to rail, petrochemical plants to pipelines, this infrastructure puts hundreds of millions at risk every day. The disaster in East Palestine makes it clearer than ever: toxic industries have no place in our backyards.
Moreover, huge corporations dominate these industries, wielding their power to bend policy in their favor. And while families like those in East Palestine suffer the consequences, corporations like Norfolk Southern rake in the cash.
Even while Norfolk's accident rate climbed in recent years, its profits soared. What's more, over the past five years, the company poured twice as much money into stock buybacks for shareholders as it did into its railways and operations.
We need to prioritize public health and safety over greedy rail corporations and profit-driven dirty industries. That starts with stronger regulations on rail.
Demand stronger rail regulations from the Department of Transportation.